0000017a-15d9-d736-a57f-17ff8f680000Coverage of the 2016 races in New Hampshire, from the White House to the State House.
Growing Up Sununu: A Familiar Name Brings Both Benefits and Baggage to the Ballot
As his son Chris is running for governor, John H. Sununu, isn't just playing the role of supportive father. He's also one of his son's most powerful campaign cheerleaders.
At a recent rally for vice presidential candidate Mike Pence in Exeter, Sununu encouraged the crowd to make sure they vote a Republican ticket — including the one running for governor who has, in his words, "a name I like to talk about."
"Look, Chris Sununu's running for governor," John H. Sununu told the crowd. "You know that. I've often said, that shows the quality and power of good breeding stock."
It's been three decades since the patriarch of the Sununu family held elected office in New Hampshire, but the Sununu name is still arguably the most prominent brand in Granite State Republican politics.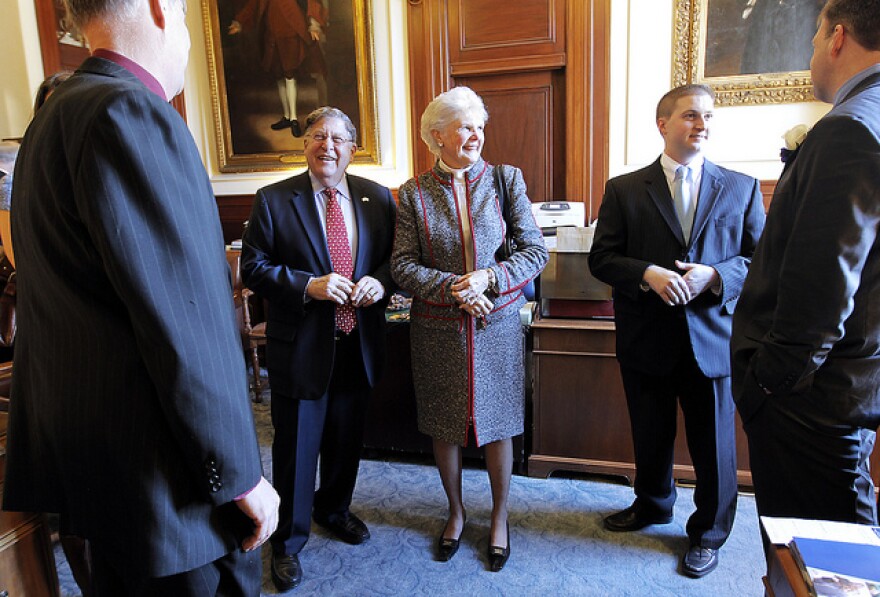 Longtime friends say the roots of their influence trace back decades ago, to their hometown of Salem: John H. Sununu served as chairman of the local planning board in the 1970s; his wife, Nancy, served on the school board. The couple was famous for, among other things, hosting an annual New Year's Day brunch that attracted hundreds.
John H. Sununu eventually went on to serve as governor in the 1980s. His oldest son, John E. Sununu, was in the U.S. Senate in the 2000s.
Now, Chris Sununu, after a few terms on the executive council, is looking to keep the Sununu legacy going.
"To say he grew up in a political family is an understatement," says longtime family friend and former House Speaker Donna Sytek, who's been there with the Sununus through victory and defeat on the campaign trail.
"Many of us who had been a part of the Sununu operation over the years are not surprised to see that another member of the family is stepping forward to offer himself over as a public service."
By the time Chris Sununu was 12, his dad was on the ballot in one way or another nearly every Election Day: Running successfully for the state House of Representatives, then unsuccessfully for the state Senate, the Executive Council and the U.S. Senate.
John H. Sununu won his first big statewide race in 1982, when he was elected governor. He remained in that office for three terms.
Being the second youngest of eight kids, Chris's official campaign duties back then were fairly limited — though, there was the one time he got recruited to sing some vocals for a campaign ad. And it doesn't take much prompting now for him to recall the lines: "If you knew Sununu like I know Sununu... Oh, oh, oh what a guy!"
"I think my job was to say, 'Oh, oh, oh, what a guy!' " he recalls. "It was quite funny at the time."
But for the most part, he says, the chaos of campaigning didn't weigh too heavily on him or his siblings.
"I don't want to say we were insulated, but it was a very normal life," he says. "Being in a big family we did everything from playing sports to participating in the community or whatever we were doing — we really weren't dragged around. I think there's this impression that that's the way it was."
That sense of normalcy changed a bit when the senior Sununu was tapped as White House Chief of Staff in 1988, for the newly elected President George H. W. Bush.
Chris Sununu, still a teenager at the time, moved with his parents and younger brother to Washington — a big culture shock, he says. The family was in the national spotlight and, consequently, subject to more negative press and political attacks.
"If it taught me anything it taught me I don't want to go back to Washington," he says. "I have no interest in ever going back as a senator or Congressman or anything like that, because they do it very differently down there. And it really made me appreciate the value of our system here in New Hampshire."
His older brother, John, was the first Sununu kid to jump into politics and did end up going the Washington route, logging 12 years in Congress and the Senate.
Those campaigns, on top of his father's, have helped to some extent to lay the foundation for Chris Sununu's run for governor — giving him an advantage in terms of political allies, donors and the benefit of built-in name recognition.
But that built-in family brand comes with its own challenges, too.
As pollster Steve Kozcela explains it, Sununu was much better known to voters than his Democratic opponent Colin Van Ostern at the start of the race, if only because of his last name. But that meant Sununu had less opportunity to make a first impression on voters that wasn't already shaped by what they thought of his family.
"If you're unknown but have sort of an effective intro, you do have a lot more space to be more than one thing," Koczela says. "Whereas if you come in very well known with a brand that's very well known, whether you created it or not, I think the space for you to do that is certainly smaller."
And even as Chris tries to run his own campaign, there's only so much he can do to separate himself from his brother and father. Dave Carney, who was around for some of the earliest Sununu campaigns back in the 1980s, says John H. Sununu was especially known for his strong personality.
"The way to put it is he didn't suffer fools very well," Carney says. "So whatever resentment and baggage that brings to Chris's name and legacy, you get all the negative as well as some of the positive."
Chris Sununu's opponents have indeed tried to make his family ties a liability in this year's campaign. One recent attack ad backed by the left-leaning outside group called "Put New Hampshire First" tries to cast him as someone who's had his business and political opportunities handed to him on a silver platter.
"Chris Sununu's family gave him a famous name, and the top job at the family resort," the ad begins, before criticizing his track record as a CEO. "Chris has never had to work for anything. Chris Sununu has no business being governor."
In a little over a week, voters will have the final say on whether that famous name really helps or hurts his shot at the top job in state government.