"Keno-garten" Is Now Law in New Hampshire. How Does it Work?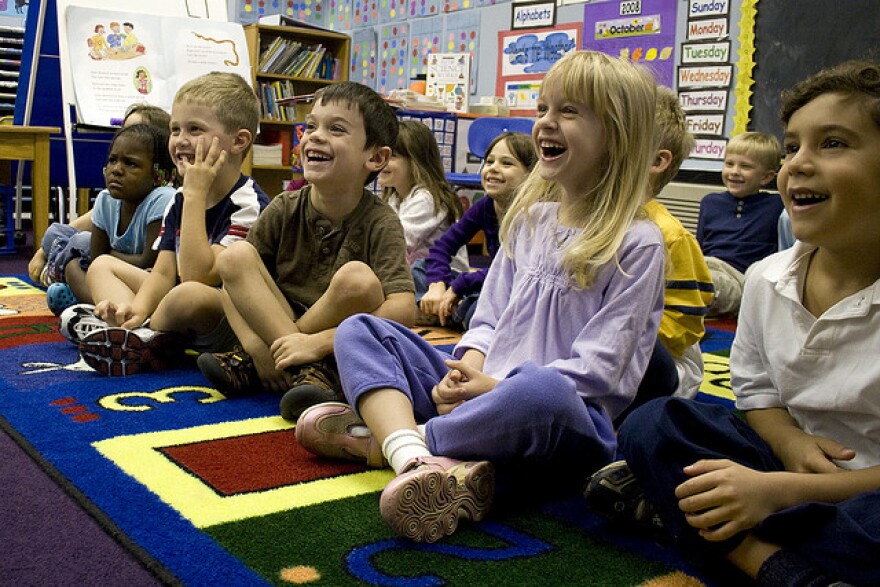 Last week, lawmakers in Concord signed off on a plan to provide state support for full-day kindergarten in New Hampshire. The new law will use revenue from the electronic gambling game keno to give school districts more money for full-day kindergarten.
NHPR reporter Jason Moon recently sat down with NHPR host Sally Hirsch-Dickinson to talk about what this mean for schools and town across New Hampshire. Listen to their conversation here.
How It Works
State funding for public education in New Hampshire is based on a grant system called Adequate Education Aid. The state uses a formula to determine how much each school district gets. It starts with a base-rate of about $3,600 per student, per year. Additional money is added for students from low-income households and students with special needs.
In the state's current formula, kindergarteners are counted at a rate of half of a student. That means the base-rate for the state's adequacy grants for kindergarteners is about $1,800.
The new "keno-garten" law doesn't change that half-student treatment of kindergarteners in the formula. Instead, it creates a new set of grants to fund full-day kindergarten on top of the adequacy formula.
Beginning in fiscal year 2019, school districts with full-day kindergarten programs will get an additional $1,100 per kindergartener.
Then, starting in fiscal year 2020, the amount will depend on how much revenue is raised from taxing keno. It won't drop below $1,100 and it could be as high as $1,800 – enough to make up for the other half of the adequacy money kindergarteners don't receive. The amount could fluctuate within that range from year to year.
What It Means for Towns and Schools
Roughly 75 percent of school districts in New Hampshire already offer full-day kindergarten. So this law likely won't usher in a new wave of full-day kindergarten programs across the state. The law's most immediate impact will be to boost the bottom lines of towns already offering full-day kindergarten and paying for it themselves
All public schools with full-day kindergarten programs will benefit from the new law. Towns do not need to approve keno to be qualified for the grants. Some towns may choose to offer full-day kindergarten without approving keno and vice-versa.
For those districts without full-day kindergarten, it's unclear whether an extra $1,100 per-student will be enough to entice them to expand their programs. Some school districts simply don't have the classroom space for a full-day kindergarten.
'Full Funding' vs Full Funding
Critics of this law say it comes up short of fully-funding kindergarten. It's true that it does not guarantee as much money for kindergarten as other grades receive from the state.
But it's worth remembering that state money accounts for a relatively small percentage of how schools are funded. The average cost per-pupil in New Hampshire is roughly $15,000. So whether the state sends an extra $1,100 or $1,800 for kindergarteners, it won't come close to fully covering the cost of kindergarten.
The decision to offer full-day kindergarten, and the financial burden of doing so, will remain largely local issues.