Nashua Developer Unveils Plans for Toxic Waste Site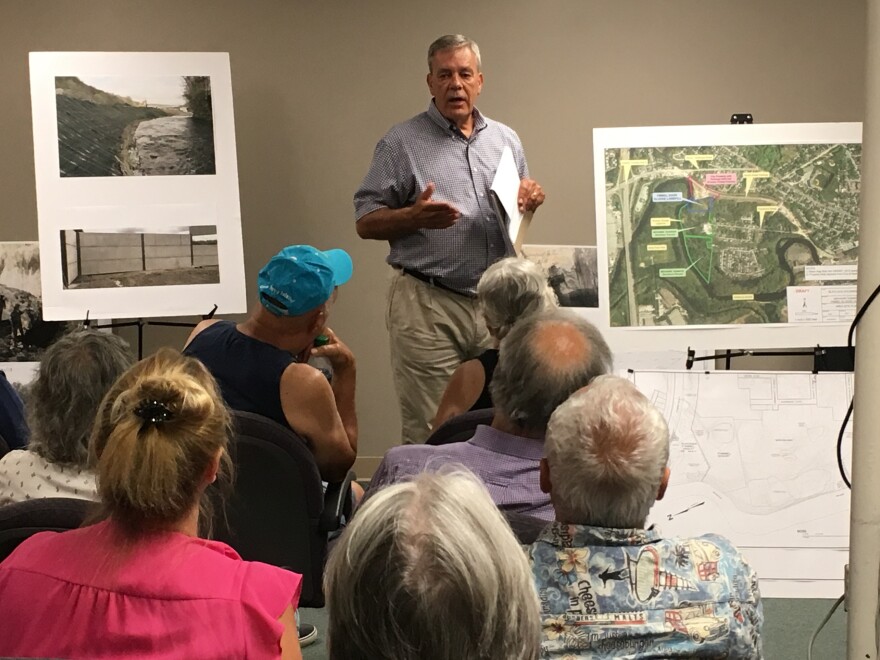 A Nashua real estate developer is working with the EPA on plans to clean up and develop a toxic waste site in the city.
At a meeting with EPA officials and Nashua residents on Wednesday, Bernie Plante of Blaylock LLC unveiled a proposal to develop 40 acres along the Nashua River.
The area contains the former Mohawk Tannery, a proposed Superfund site.

The EPA wants to fast-track cleanup by storing toxic waste and asbestos in two lagoons on the tannery site, and buttressing the lagoons with a secant wall of tubes made of concrete, sand and clay.Plante says he will fund the majority of the cleanup, which could total around $10 million. After cleanup, Plante plans to build hundreds of residential units, a commercial area and a river-walk.
Plante says he has been in discussions with the city, state agencies and the EPA for three years about the site.
He told residents of Nashua's Little Florida neighborhood, which abuts the tannery site, that he will work with the EPA to ensure full remediation and ongoing monitoring.
"There are no shortcuts here," he said. "There are several agencies keeping an eye of this."
Many Nashua residents want the waste trucked off-site, which the EPA estimates would cost about $20 million more. EPA project manager Girardo Millan-Ramos says this is too costly, and that working with the developer for on-site storage means a faster cleanup.
"If everything runs smoothly, this particular approach could start as early as summer next year, and take more or less 30 months in total," Millan-Ramos said.
"In a typical Superfund site, we could be talking decades."
Attendees to the meeting were divided over the plan. Some praised Plante for bringing more opportunities to the city and expediting the cleanup process.
But Terrel Stevens, who has lived in the Little Florida neighborhood for 34 years, said it was unfair for the EPA to offer a cleanup plan contingent on a big real estate development.
"You're damned if you do and damned if you don't," Stevens said. "This is the only chance we have to clean it up, but if we clean it up, we're going to wind up with a thousand [more] people in our area."
Plante stressed that specifics of the development could only be discussed after EPA's cleanup proposal is approved.
Public comment to the EPA regarding the cleanup ends on Sept. 7.