N.H. Youth Summit On Opioids Delivers Strong Message With A Touch of Fun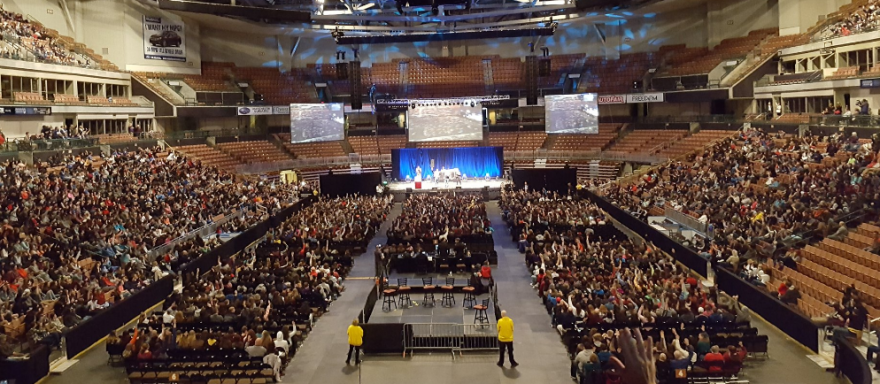 Thousands of New Hampshire middle and high school students gathered in Manchester Tuesday for the state's first-ever Youth Summit on Opioid Awareness.
Throughout the roughly three-hour summit, the message of prevention and social responsibility was not only directed at students but also geared for them too.
As students from across the state packed the SNHU Arena in Manchester, the atmosphere was more that of a concert than a summit on opioids.
There were performances by local dance groups, a live DJ, as well as celebrity guests such as New England Patriot's player Patrick Chung and a personal video from actor Mark Wahlberg. And all who presented - tried different tactics to keep the crowd's attention.
U.S. Attorney General Jeff Sessions, who made a surprise appearance Tuesday, referred to his state's college football team.
"Only a prevention movement can turn the tide, and I'm not talking about the Alabama Crimson Tide, I'm talking about the tide of drug abuse in this country," Session said with a chuckle.
And when Manchester Mayor Ted Gatsas took the stage he made this suggestion: group selfie. Instantly the crowd cheered and waved their cell phone lights in the air.
Governor Chris Sununu riled up the crowd by touting his New Hampshire roots.
"They tell me I'm the first Governor in about 20 years to actually go through the public schools here," he said with a lot of energy. "I have a lot of hometown pride, a lot of 603 pride. Finally let's hear it from the big Queen City from Manchester," he yelled followed by loud roars.
Attendees were encouraged to take photos and share their experience on social media using the hashtag #DrugFreeIsUpToMe.
That message of personal responsibility was the focus of nearly everyone who spoke including Mayor Gatsas.
"You are the warriors that we need in the field right now to save the many lives and families that are afflicted by this awful disease," Gatsas said. "So show me those lights and show me how strong you are going to be out there to make sure we all gather to fight this disease together."
Natalie Turcotte, a freshman at Alvirne High School in Hudson, says she's already working to get this word out to her friends.
"They're not cooler because they do it – some people actually think less of you because you do it. So, I just want to tell them, don't do it," she said sternly with a laugh.
Sununu told the crowd that he'll be rolling out a new prevention program in the coming weeks as well as getting together a youth advisory group to help better shape future policies.
"The country is watching New Hampshire – we have a tremendous opportunity here and you guys are going to be the real difference makers."