The Shot And A Shave: Inside A COVID-19 Vaccination Clinic At A Nashua Barbershop
In the back of La Fama 2 Barbershop in Nashua, a group of men gather around black pleather couches, examining the vials and needles used to distribute the COVID-19 vaccine laid out on the coffee table.
They tease each other about who's brave enough to get the shot first.
"Do you want me to hold your hand?" one of Nashua's public health nurses asks.
"No, no," Edgar Ovalle laughs.
He sits down first, and he says he heard about the clinic through his wife's cousin, who works at La Fama.
"I told him I wanted to get a vaccine, and he called me and told me to come in today," Ovalle says in Spanish. "Everyone should get vaccinated, because we're all going to need it."
Get NHPR's reporting in your inbox. Sign up for our newsletters now.
The strength of interpersonal relationships brings people into smaller clinics like the one at La Fama 2. These sites are becoming more important to Nashua's vaccination effort, especially as new vaccination rates slow down, and visits to mass vaccination sites slow to a trickle. As of Sunday, June 6, 43.9% of Hillsborough County was fully vaccinated, which is lower than the state rate of 50.7%.
Lilo Almonte, La Fama's owner, knew his barbershop could help. When a community health worker asked if he was interested in hosting a clinic, Almonte said yes. He started spreading the word.
"A lot of people probably feel shy or scared, to take themselves to the hospital, to the clinic, but they say, 'Oh we're going to the barbershop? We're going to be with the barber? That'll be fine!'" Almonte says.
Recibe las noticias más recientes de New Hampshire aquí con ¿Qué Hay de Nuevo, New Hampshire?
The atmosphere at La Fama feels homey: there's salsa playing in the background and a basketball game on. Barbers and clients joke with each other.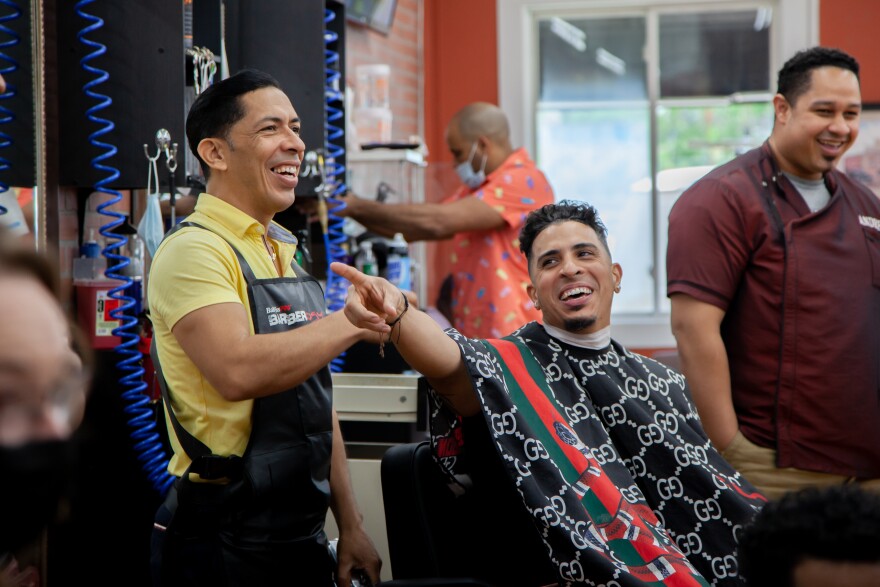 About 20 people went to the first two Friday clinics at the barbershop, but Almonte thinks there's a better time for people to come.
"I told them that the best way to vaccinate Latinos, who work so many hours, Monday through Saturday morning, is to do this on a Saturday afternoon," he says in Spanish.
This past Saturday afternoon, 17 people got the Johnson & Johnson vaccine, which is offered as a single dose.
Almonte's been a barber in Nashua for 20 years. He knows his longtime customers trust him. For a lot of people, Almonte takes on the role of a friend or, in some cases, counselor.
"I have some clients who, I think, share more about their problems with me than with their partners," he says.
Almonte says he uses the familiarity associated with barbershops to connect people to other systems. For example, he made people aware about state assistance programs during the pandemic. Now, he's helping with vaccinations.
"When you get in touch with a barber, you get in touch with the city," Almonte says. "The barber says, 'Look, this barber has this many clients per week.' Word gets out so fast from a barbershop, I'd say it's like the internet."
"They trust their friends, they trust their family, and if they're seeing their friends and family go ahead and get vaccinated, they're more likely to do that too if they were a little hesitant," says Jennifer Swabowicz, a public health nurse.
It helps too, she says, that the city's public health team has seven bilingual community health workers who can answer questions in several languages. Swabowicz and her colleague, Silvia Petuck, brought along vaccine FAQs in Portugese and Spanish to La Fama.
These small clinics at La Fama have been the most successful of Nashua's recent efforts, says Swaboicz. She says at least 35 people got vaccinated there in the past three weeks.
Jorge Melo usually goes to La Fama once a week to get a touch-up and a trim. But instead of getting a cut, he went to get vaccinated, at Almonte's invitation.
"He told me a lot of the guys at the barbershop had gotten it, and encouraged me to do it, to protect my family," Melo said, in Spanish.
Melo had a lot of questions about the vaccine's side effects, but after talking with the community health worker and hearing from Almonte that everything went well for him after his vaccine, Melo decided to do it.
"A lot of people probably feel shy or scared, to take themselves to the hospital, to the clinic, but they say, 'Oh we're going to the barbershop, we're going to be with the barber? That'll be fine!'" - Lilo Almonte, owner of La Fama
A group of guys gathered around Melo as he got vaccinated, taking pictures and video.
A few minutes later, Melo sent those to his WhatsApp group chat with some friends, family and other guys from his neighborhood, who had some of the same questions he did earlier.
"I gave them some more information, told them to come get vaccinated and that I got my vaccine, and I'm feeling fine," he says. "Some told me they were coming today to get vaccinated."
"We're getting a lot of wait-and-seers right now. They've seen that, since December, people are being vaccinated and it is safe, and people are fine," Swabowicz says.
Swabowicz says the city plans on continuing these small clinics wherever there's interest: small business, churches and even apartment buildings.
At this point, she says, those numbers really start to add up.
Swabowicz says if anyone has a need for a small vaccine clinic, with 10 or more people, they can call Nashua Public Health Department's hotline at 603-589-3456 to set up a time and date for the clinic.