News from everywhere *but* Central New Hampshire.
Where Do You Get Your News? Ever Heard Of Daybreak?
NHPR currently has a survey where we're asking you how you'd like us to cover the upcoming elections. One question we're asking - to learn more about you - is where you get your news. And your answers to this question caught the attention of reporter Sean Hurley.
Along with NHPR, The New York Times and The Washington Post, many tell us they get their news from something called Daybreak. What in the world was Daybreak, Sean wondered? Here's what he found out.
Here's another way to get your news - sign for one or more of NHPR's newsletters today!
As he's done for almost two years now, Rob Gurwitt wakes at 4:30 every morning. He goes downstairs, starts the coffee, turns on his laptop...and begins to write. "It started as an experiment," Gurwitt says, "I had no idea whether it was going to last beyond a week, let alone you know a year and a half now, but it started with 25 friends. So the voice in it was just me talking to friends."
At 62, Gurwitt has been a journalist for most of his career, but in the last few years the long-form reporting work he was good at was getting harder and harder to find.
"I spent the bulk of my career writing, you know, 3,000 to 8,000-word articles," he says, "those days are gone in the magazine world. And oddly I really like writing these short things."
"Writing these short things" is nearly Gurwitt's new job in the form of a daily email newsletter called Daybreak, a charmingly written harvest of world and local news from the Upper Valley, Vermont and New Hampshire.
If local journalism with no paywall matters to you, support it. Become an NHPR member today!
"And now it's closing in on 7,000 subscribers," Gurwitt says, "and if I'm thinking about this going out to 7,000 people, I would never hit send. I mean it's like 'Ohhh!' So in my mind I'm still just writing to friends."
Sitting in the forested backyard of his house in Norwich, Vermont, Gurwitt picks one of that day's fifteen wry, quick-take articles to illustrate this "writing to friends" style: "The other day the McDonald Observatory in Texas posted an image of a jellyfish sprite," he reads, "an enormous red sprite that flashed for a split second above a distant thunderstorm back in July.
Words can't come close to describing it except to say, 'Wait! That happens here on Earth?'"
Each Daybreak begins with Gurwitt's almost always optimistic weather report, composed from data gathered from the National Weather Service. "Highs in the mid 70s. Winds from the northwest and temps bumping down to 50 overnight. Isn't that lovely when it gets to 50? It's like Oh my gosh, can't wait!"
There's a COVID numbers and status update - sometimes at the top if it seems pressing, down at the bottom if not - followed by local news, which Gurwitt defines broadly.
"News is also the photograph of sunrise on top of Mount Cardigan nearby," he says. "We've got a really gifted writer and naturalist, a guy named Ted Levin who lives up in Thetford and so news may just be, you know, his musings on ticks or on the buzzards that are there, or on the snakes that he sees."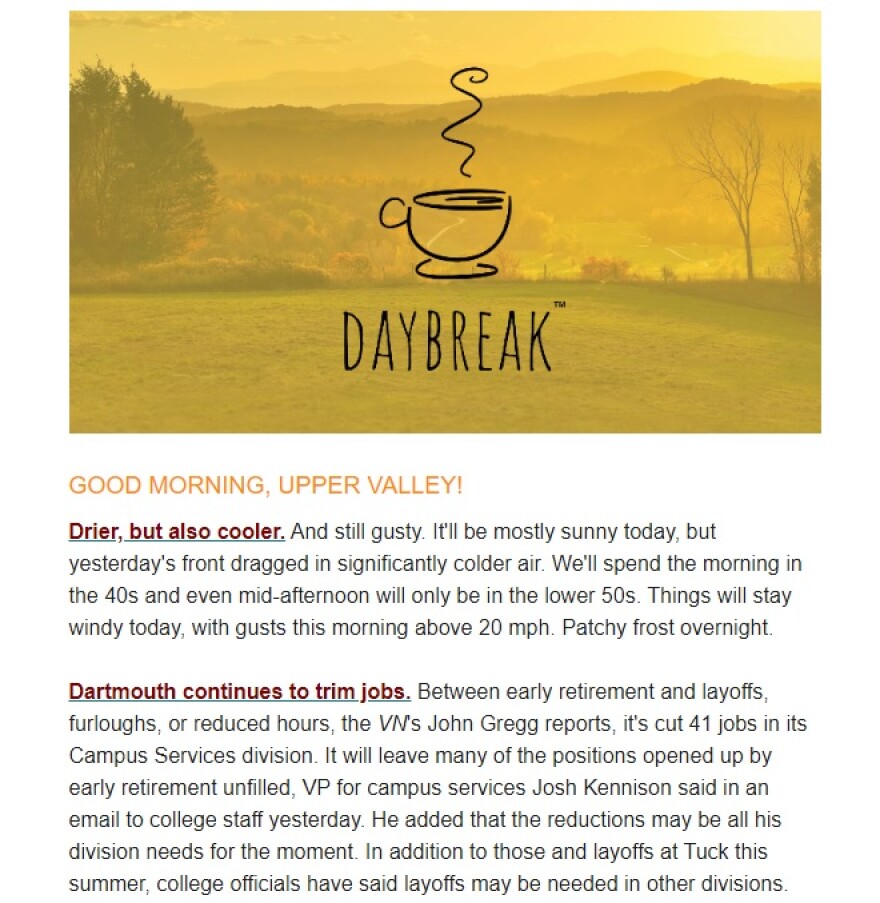 In fact Gurwitt believes – especially with Daybreak's unexpected success – that he's filling a need formerly provided by newspapers.
"One of the mistakes that newspaper ownership made as they were imposing cuts on papers was they stripped away everything that was fun about the news and about newspapers," Gurwitt says. "And when all you're getting is little dumbed down pieces of spinach? It's like, why subscribe? What's the point?"
Not only has the fun been removed, Gurwitt argues, but we've become jaded by the pandemic, by the current divisions in our country into believing there's nothing but bad news.
"So why not make it clear, not by telling them but by showing them every day. That that's wrong. It's just plain wrong," he says. "I mean, there's a lot going on in any town, if you think about the amount of news that would interest people. There's a ton of it. Almost none of it actually ever gets reported on."
Gurwitt himself is no longer a reporter – a job he sorely misses.
"So this is my stand in for it," he says. "I'm mostly a curator. Although I think of it more as - this seems like an odd term - but more as a concierge. What really told me I was on the right path was that I started getting emails from complete strangers telling me that they had never thought they would read anything else but the New York Times over their morning coffee, but this is now what they open first. And that's where the payoff comes."
Another payoff comes in the form of reader donations and a single text based ad in nearly every edition. "By mid March, it was clear to me that it could become sustainable as a way of making a living." Gurwitt says, "it's kind of on a path where I think by next year it could be all that I need."
Gurwitt implicitly trusts that he'll eventually get there and that's largely to do with the almost intimate relationship he's created with his 7,000 subscribers.
"I've had more than one person say, you know, every morning I feel like I'm just, you know, rolling over in bed and there you are speaking to me, which is kind of an honor," he reflects.
With every 6 am edition of Daybreak, Rob Gurwitt hopes to remind his readers that all the news that's fit to print can be as reassuring as it is real.