• Check out our list of New Hampshire museums, galleries, performance venues & independent bookstores, sorted by region.• You can also find art exhibits, book readings, live music and more on our Public Events Calendar.
Word of Mouth 11.17.2012
Part 1: Pimpin' Your Thanskgiving Faves
A.P. food writer and cookbook author J.M. Hirsch shares his tips on how to "pimp" your Thanksgiving dinner to make it impress without stress. Make your own butter in five minutes, stuff your turkey with fresh herbs, and make sure to dry your potatoes before you mash them. And as far as salad? Forget it. Thanksgiving comes but once a year, so splurge.
Part 2: A Vegan Thanksgiving???/Chocolate... Yum
Don't ask me why, but I attended a vegan Thanksgiving several years ago. I remember a kind of grayish "mock" turkey, washing down cookies that tasted like sawdust with twig tea and wondering "why would anyone consider this a celebration?"
Vegan food has made great strides since, but it still feels like a bit of a downer to insist upon being vegan at Thanksgiving. That is, unless you're talking to Robin Asbell . She's a chef, food writer and cooking teacher specializing in natural foods who's book, Big Vegan, is a lively, colorful and yes, big book of meat and dairy-free recipes for confirmed vegans, and even those who've been on the wrong side of a finger-wagging vegan in the past!
and
A friend recently told me that I must try the drinking chocolate at Dancing Lion Chocolate in Manchester…that was enough for me, then I learned that the proprietor, Richard Tango-Lowy, was a physicist before becoming a chocolatier. After experimenting on his own, Richard attended a prestigious school in France, and opened the tiny shop and café. I visited Richard for a tasting and got a tour of his kitchen, a laboratory of sorts for exploring the science and dark mystery of chocolate.
Part 3: Open Secret
Every family has its secrets. Few compare to the Lickteigs'. Steve Lickteig was adopted by a devout, Roman Catholic family. Growing up in a small house on a Kansas farm, Steve was adored by his eight older siblings, but sheltered from a painful secret about his identity. And everyone in their small town knew the truth before he did. Steve is a producer for NPR and now filmmaker. His documentary "Open Secret" was an official selection at the 2011 Hot Docs Film Festival in Toronto.
View the trailer:
Part 4: Reads to Survive Thanksgiving With the Fam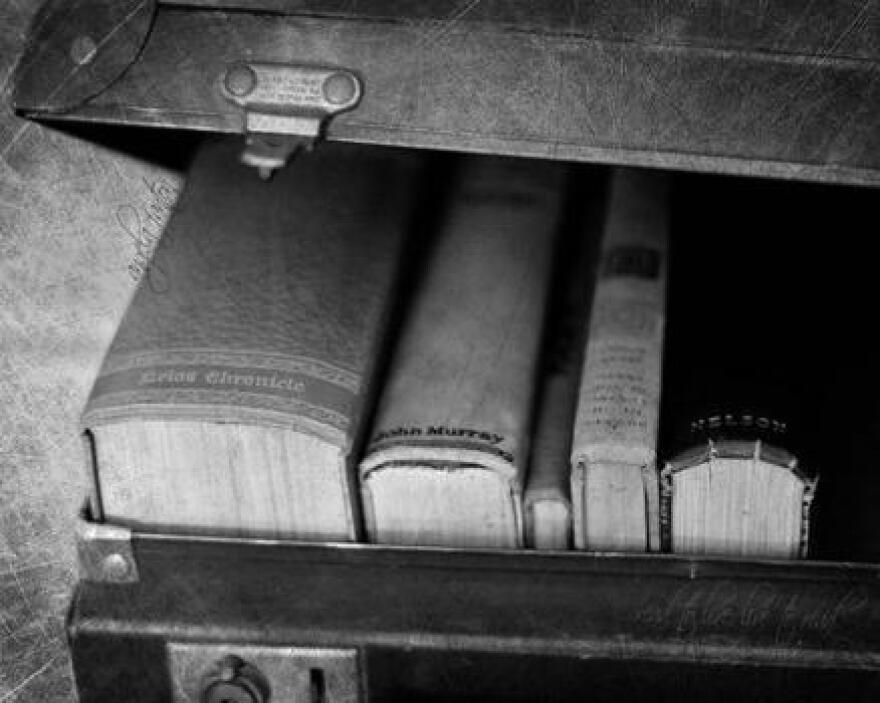 When the turkey's picked clean and you'd rather wash dishes than watch football, fear not, we have some suggested literary escapes for you from Michele Filgate—writer, critic, book blogger and well-followed member of the Literary Twitterati. She's never steered us wrong.
Michele explains her picks to pack for a long weekend with the family:
May We Be Forgiven by A.M. Homes: The ultimate dysfunctional family book. A book that begins and ends at Thanksgiving dinner, and covers one year in the tumultuous life of a family. Harold Silver finds his life is completely turned around after his brother George gets in a car accident and goes completely crazy. George kills his own wife after finding her in bed with his brother, and ends up in jail. Harold, a Nixon scholar, has to take responsibility for his brother's kids. This doesn't sound like a funny book at all, but it's actually viciously funny, full of black humor. The funniest book I've read since SKIPPY DIES...full of internet hookups, adults playing naked laser tag, and other comical scenarios.
All We Know by Lisa Cohen: For the more independently minded person who cringes at the idea of spending too much time in one household--- this is one of the best nonfiction books of the year. A biography that takes a look at three lesbians who were part of the cultural make-up of the 1900's--- Esther Murphy, a failed biographer who could talk anyone's ears off, and was friends with Edmund Wilson and other cultural icons, Mercedes de Acosta, an ultimate fan who slept with Marlene Dietrich and Greta Garbo, among others. And Madge Garland, a fashion editor at the British Vogue--and someone who counted such importantly literary figures as Virginia Woolf among her friends.
Behind The Beautiful Forevers by Katherine Boo-- If you find yourself disgusted by the gluttony of the American holiday, why not read the true and heartbreaking story of those less fortunate than you-- those who live in an Indian slum. This is an absolutely incredible work of narrative nonfiction that just won the national book award! (Producer's note, that happened after we taped this interview -RL)
Rules of Civility by Amor Towles-- came out in hardcover in 2011, and in paperback this year. If you're looking for smart escapism, this is the book to pick up. Get transported to a different time period in the story of a woman who climbs the social ladder in NYC. The book starts out in 1937, and of course there's a romance. This is the perfect book for fans of Mad Men.
Another favorite of mine (older) is THE BEST OF EVERYTHING by Rona Jaffe--published in the 1950s.
The Twelve by Justin Cronin--sequel to The Passage, and the second book in a trilogy. This is even better than The Passage! For fans of The Stand and The Walking Dead-- an incredible story set in a post-apocalyptic world, where one girl can save the world. There are virals. An absolute page-turner.
My Only Wife by Jac Jemc--This small press book is poetic and highly original-- told from the perspective of a man whose wife is no longer in the picture. She's obsessed with other people's stories and keeps a closet where she supposedly records strangers stories. There's a repetition to this novel as the husband describes memories of his wife-- My wife this and my wife that. But the writing is beautiful and this is a great read over the holidays, a time when most of us are haunted by our own memories.
My other favorite small press book of the year: Glaciers by Alexis M Smith-- a novel about a librarian who pines after a co-worker. She's obsessed with ephemera. This book, like MY ONLY WIFE, is for people who'd rather live on words than a big turkey dinner. (Producer's note...we incorrectly identified the author as "Alexis K. Smith" during the interview. -RL)
The Middlesteins by Jami Attenberg-- perhaps inappropriate to bring up when discussing Thanksgiving books, since this is a novel centered around a family in which the matriarch can't stop eating, and is incredibly overweight. Also, I'm friends with the author. But this book is one of my absolute favorites of the year, and I predict it's going to be a huge book club book. Jonathan Franzen is a fan, too. Jami mixes comedy with seriousness in the perfect blend.