Poll: N.H. Residents Support Full-Day Kindergarten, Marijuana Legalization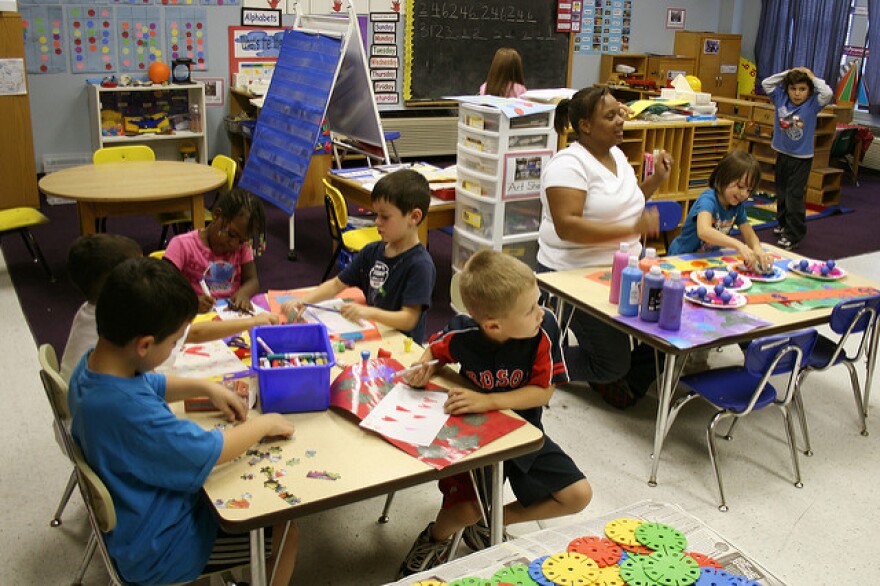 A new poll this week conducted by the University of New Hampshire Survey Center asked Granite Staters to weigh in on a number of topics that have been in the news of late.
More than 500 New Hampshire residents were asked for their opinions on everything from full-day kindergarten to marijuana legalization.
UNH Survey Center Director Andy Smith joined NHPR's Morning Edition to talk about the results.
Let's start with how people are feeling about the performance of Gov. Chris Sununu. What did people have to say?
I think Gov. Sununu is getting the honeymoon that governors in New Hampshire typically get. Fifty-seven percent in the state approve of the job that he's doing as governor; only 17 percent disapprove. About 26 percent – a quarter of the people – still really don't have an opinion on this yet. I assume as we go forward some of those partisan imbalances will harden up a bit, but right now he's about as popular as Gov. John Lynch and Gov. Maggie Hassan were in the first several months of their administrations.
One of Sununu's key policy priorities has been expanded funding for full-day kindergarten across the state. That's one of the things you asked about. I was wondering about the support there. Is it bipartisan?
It's extremely strong and it is bipartisan. Eighty-three percent of Granite Staters support funding for full-day kindergarten; only 13 percent oppose. And it's important to point out that 77 percent of Republicans in the state favor full-day kindergarten. Gov. Sununu's gotten some pushback from Republicans in the legislature, but there really is strong support among the populous in the state for this.
Your survey asked people what they saw as the most important issue facing the state. What was the consensus there?
This is something that's been very troubling for the last couple years. The most important issue cited by people in the state is the growing opioid problem, the misuse of drugs. Fifty-three percent of people in the state say that drug misuse is the most important problem. The second-most important problem is jobs and the economy, but that's only cited by 11 percent of people in the state. This is the first time in all of the years that we've been measuring this problem, going back to 2001, in which a majority of the public cited one specific issue as the most important problem. I can't overemphasize the perception that opioids are by far the most important problem in the state.
But while people say they're concerned about the drug crisis, they appear to be overwhelmingly in support of marijuana legalization.
I think that's an important point. The public doesn't see marijuana legalization and the opioid crisis as the sane issue. Right now, New Hampshire is going to be surrounded by states and countries that have legalized marijuana use for recreational purposes. Vermont is in the process of passing a bill right now. Voters in Maine and Massachusetts approved legalization, and in Canada, the province of Quebec. So what we're seeing in New Hampshire is increased support for legalization of marijuana for recreational use. Sixty-eight percent favor legalization for recreational use; only 27 percent oppose. That's been increasing over time. And what we've seen is support for that is largely bipartisan. Democrats are more supportive, with about 80 percent supporting, but 52 percent of Republicans support this, as well.
So attitudes have changed over time?
Right, and the biggest difference we see is on age. Among young people, those under the age of 34, 89 percent favor legalization for recreational purposes. The only group in which less than two thirds support this is are people 65 and older. There we see only 36 percent support. But it's important to point out this has to go through the legislature, and the legislature is primarily people in that 65 and older category, so I think you're seeing a disconnect here between what's going on in the legislature and what the public wants. Recently there's been a bill making its way through the legislature to decriminalize marijuana. And there's support for decriminalization, but if you ask people what they prefer, 55 percent of the state favors legalization and taxing, only 19 percent favor decriminalization, and 21 percent want to keep things where they are now. When you add that layer of taxation in there, you see even majorities of Republicans favor legalizing marijuana.