Final results: Summary results | Town resultsThe BasicsThe New Hampshire primary is a mainstay in American electoral politics. Every four years, voters gather to help determine the Republican and/or Democratic nominee for President. While the state only has 12 electoral votes in 2012 (normally it's 24, but the Republican National Committee penalized the state party for moving up the event date), the primary's position as one of the earliest contests gives the state out-sized influence over the nomination process.Only the Iowa caucuses come before New Hampshire's primary. Traditionally, New Hampshire's broad-based primary contest has been seen as a counter-weight to Iowa's more drawn-out caucus process, which tends to draw a smaller core of party faithful. In the case of the 2012 Republican race, New Hampshire's electorate is seen to represent the more libertarian-leaning, fiscally conservative wing of the party, while Iowa voters are seen as representing the socially conservative wing of the GOP base.N.H. Primary summary provided by StateImpact - NH reporter, Amanda Loder
Long Lines At Polls Not Because Of Voter ID Law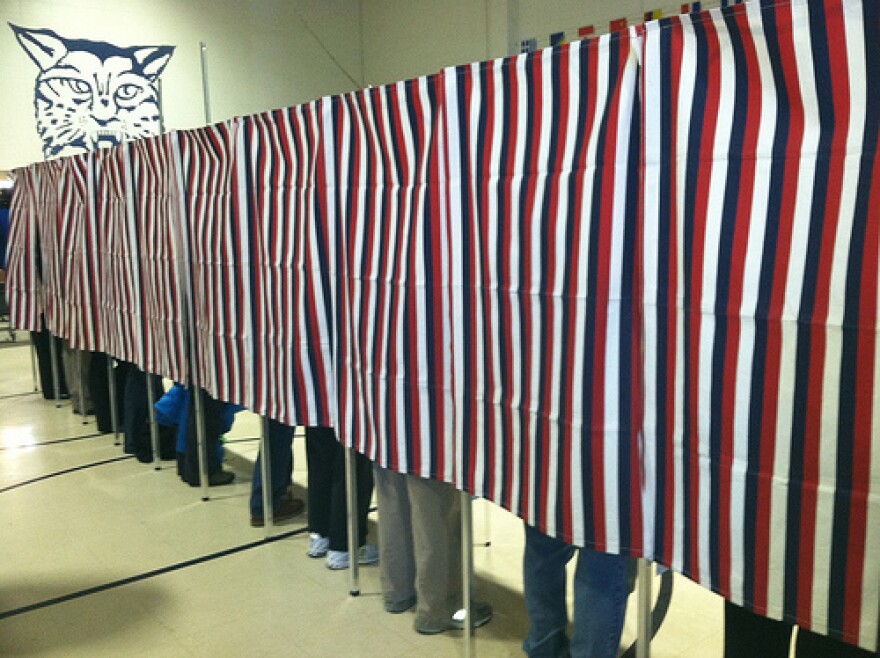 New Hampshire Elections officials say they heard a fair number of complaints about long lines at the polls. But as they say something other than the new voter ID law is to blame.
Talk of long lines at the polls was common on Election Day. And for Republican gubernatorial candidate Ovide Lamontagne, it even affected how Election Night played out. As supporters saw more and more returns favoring Democrat Maggie Hassan, a spokeswoman addressed the crowd.
"People are still voting in Londonderry, they're still queued-up and in line to vote," she said with a sigh. "So we won't be doing anything until everyone has actually voted in the state of New Hampshire."
This last line earned applause along with scattered whoops from the crowd.
And Lamontagne did, ultimately, win Londonderry, if not the governorship.
Town Clerk Meg Seymour confirms the last ballot was cast at 9:45 pm—nearly two hours after polls officially closed. Seymour says nearly 1,100 people registered to vote in this election—a town record. Polls in Portsmouth, Durham, Salem and Manchester also reportedly saw long lines. And Deputy Secretary of State Dave Scanlan says that reflects a statewide trend, "It's very possible we broke another record yesterday."
The previous record was back in 2008, when Barack Obama was first elected President. While the state's new voter ID law is controversial, Scanlan says it really didn't slow anything down at the polls.
He says the long lines can be explained by a simple clerical process. Every ten years, when the US Census comes out, the Secretary of State's office scans its voter rolls. Anyone who hasn't voted in four years gets contacted by the office. If they don't respond, the office assumes that for some reason they're no longer voting in New Hampshire, and kicks them off the rolls. So the next time they want to vote—they have to re-register.
And a lot of voters got kicked off the rolls after the 2010 census.
"About 160,000 voters were removed from the checklist," Scanlan says. "So our expectation was that there would be an excessive number of same-day registrants at the polls during the past election."
Scanlan says the Secretary of State's office was expecting about 100,000 same-day registrations. And preliminary numbers show New Hampshire's on track to meet that target.