Some Facts About New Hampshire's Infrastructure:New Hampshire has approximately 17,000 miles of state and town roads, turnpikes and interstate highways. There are 3,795 bridges in the state. As of 2010, the New Hampshire Department of Transportation plowed more than 800 lane miles of roads and put down 180,000 tons of salt for snow and ice control annually.The state was given a "C" grade by the American Society of Civil Engineers for the condition of its roads and bridges. New Hampshire was rated among the worst in the country for the poor condition of its bridges by Transportation For America. On average, bridges are older in New Hampshire than those in the rest of the country. There are hundreds of bridges on the so-called "red list," which means that the bridges have major structural problems and need to be repaired or replaced.The state also has a poor record when it comes to public transportation. New Hampshire has no comprehensive rail system and is rated 42nd in terms of investment in public transportation according to the State Department of Transportation.The majority of New Hampshire's infrastructure funding comes from vehicle registration fees and gas taxes. The state takes out fewer bond loans than other states and considers its funding a "pay as you go" system. The gas tax, the lowest in New England, has not been raised since 1991. The 2011 Legislature did away with a motor vehicle fee increase. That change has meant more $30 million a year in cuts to DOT.The $800 million expansion of I-93 from Salem to Manchester began in 2006, but has been delayed several times because of a lack of funding. Supporters of the expansion say it will update one of the country's most congested highways and bring needed tourism revenue to the more isolated and less economically robust northern part of the state. Traffic on I-93 has increased 600 percent since the highway was built in the 1960s and approximately 80,000 cars now drive on it each day.Summary provided by StateImpact NH
Are We There Yet? Packed N.H. Highways Are Back, After Pandemic Lull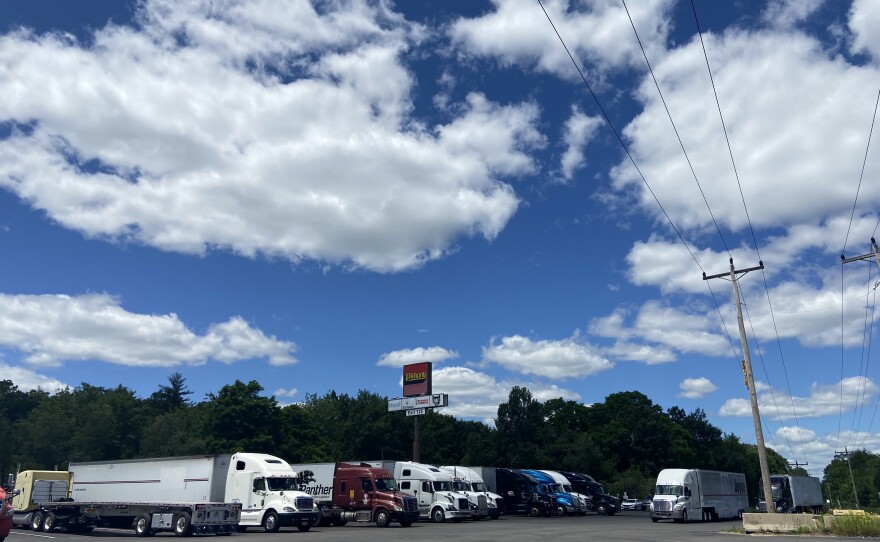 Eighteen wheelers line the parking lot of the rest stop on route 3A in Concord.
Samantha Coetzee, NHPR
Timelapse of Interstate 93 in Manchester, N.H.
Dan Tuohy / NHPR
There's a reason your morning commute may be taking longer these days: Traffic in New Hampshire is bouncing back from the steep declines caused by the pandemic.
Traffic on state highways plummeted by 58% in the first two weeks of April 2020, according to data from the New Hampshire Department of Transportation. While the number of cars on the road has fluctuated since then, recent traffic levels are inching closer to those from before the pandemic.
A four-week average from the start of summer shows the number of travelers to New Hampshire highways is just below 2019 levels. There were 2,256,890 vehicles, on average, on the highway during that period this year, compared to 2,484,699 vehicles during the same period in 2019.
Get NHPR's reporting about politics, the pandemic, and other top stories in your inbox — sign up for our newsletter (it's free!) today
If many people decide to work from home permanently, traffic patterns in the Granite State will also change, Bill Lambert, state traffic engineer with the Department of Transportation, noted.
"People have found that they can be productive from other locations, other than a business office," he said. "So I don't know if we'll ever get back to that commuting traffic volume that was pre-pandemic."
With more sectors of the economy reopening, business is also picking up for truck drivers this year.
The number of commercial trucks on New Hampshire roads dipped by 4.5% in 2020, according to a traffic report from the New Hampshire Department of Transportation.
Angel Carmona, a truck driver for a commercial landscaping supply company, says he's seen more trucks on the road and heard more voices on his CB radio in recent weeks. The economic boost is good news, he said, but it's pushing drivers to their limits.
"We have too much to do," he said, sitting in his 18-wheeler at the southbound rest stop on I-93 in Hooksett this week. "I think we need more drivers, more trucks on the road."