The Dogs of NHPR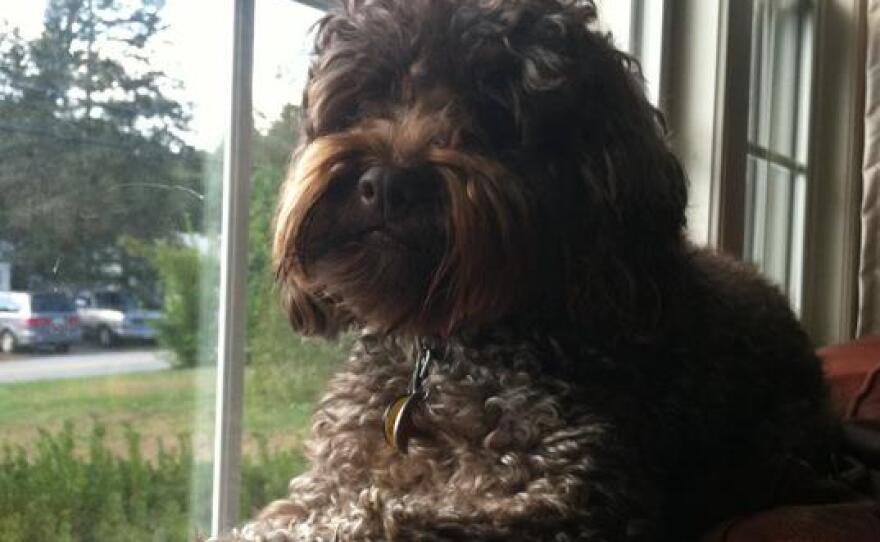 Inspired by the numerous dog stories which graced our air waves this past week, it got us thinking of our own K-9 pals back home. That said, we've fetched some fabulous snapshots of our very own lovable pooches. We're marking new territory here on NHPR.org, and this one's going to the dogs. This is NHPRuff.
Bridey Lavoie-Flynn
Owner: Rebecca Lavoie
Breed: Cockapoo
Age: 2 ½
Interests: Eating fastidiously, watching Teen Mom 2, staring out the window
Stewart Lavoie-Flynn
Owner: Rebecca Lavoie
Breed: Soft-Coated Wheaten Terrier
Age: 3 months
Interests: Learning to poop in appropriate places, eating, chewing that other dog's ears, lying around, eating
T-Bone
Owner: Rick Ganley
Breed: Basset Hound
Fenway
Owner: Beth Szelog
Eight years ago Fenway was found in a box on the side of the road somewhere in Pennsylvania, along with his other puppy brothers, Dodger, Ranger and Yankee. It was love at first sight when I saw Fenway. He is the most loveable, funny and cutest dog in the whole wide world. He's my best friend, my hiking companion and my 4-legged soul mate. He brings joy to everyone he meets.
Fenway's claim to fame was winning $500 in a local Pet Idol contest. He's also won a blue ribbon for Best Wag and 2nd place in a Best Kisses contest (which to this day, I believe was rigged). He also was a runner up in the movie, Firehouse Dog. If you have the CD, you'll see him featured in the bonus CD.
Not bad for pup found in a box!

Courage
Owner: Betsy Gardella
Everyone we know who lived in NYC and had an only child, got a pet after 9/11. Given that my husband and I are both allergic to pretty much everything with either fur or feathers, we opted for a poodle. Not quite the metaphor we were looking for, but there you have it. He's a mini (not a standard or a teacup) and I consider him to be a big mini, but I am his mother after all.
Like all small dogs, however, he thinks he's big – a Rottweiler or Doberman or Boxer or some such thing. Because he has very poor peripheral vision he's somewhat unpredictable if you get my drift. He startles easily to sometimes dramatic consequences.
He's great company here in the country. After moving to NH and in love with my long dirt road, I'd boast to friends about the wonderful early morning walks I'd take. I'd say "I get up early and go outside with Courage for in invigorating morning walk!" A perplexed look would come across their face, surprise to learn that an early morning walk in my neighborhood required courage. It's dangerous in Hopkinton? Really? No, no, I'd explain. "It's the dog, the dog is named Courage."
You must admit that Courage is a pretty good post 9/11 dog's name but in all honesty, the name had nothing to do with the virtue. He was named for Courage the Cowardly Dog, a cartoon that was on the Cartoon Network at the time. My daughter's dog, my daughter's name. She was in the fourth grade at the time. It felt right.
She was tremendously excited about having a dog. When we picked him up from the breeder they happily sat together in the back seat until Courage threw up all over her lap. Their relationship, I'm afraid to say, has gone from bad to worse. He's sort of the little brother she's never had. Ten years later, I'm still hoping she'll come around.

Angel Rose Raiche
AKA: Angel-poo, Roo-Roo, Peanut-butter, Monkey-moo
Owner: Taylor Quimby
Age: 7
Likes: Tearing the squeak out of squeaky toys, Crawling under the covers, begging for bacon, and belly rubs.
Dislikes: Going potty when it's raining, Uncle Tim
Favorite food: whatever's on your plate.

(Non-Dogs Section!)
Mummy, Creamy, Baby Cream, Brown, Tilton, Black&White
Owner: Danielle Lima
Breed: Mongolian Gerbils
Ages: Mummy is about 2 1/2, Creamy is just under 2, the rest are 1 year, 10 months
Interests: Tirelessly digging, kicking up the bedding, chewing toilet paper rolls, cuddling into a cute little sleep pile, being hand-fed treats (especially pumpkin & sunflower seeds)
Bio: It all started when my boyfriend gave me the surprise of my life for my 20th birthday... I had never had a pet...always loved animals... parents wouldn't let me have one at home. So, on March 31st, 2010 I walked into his room and saw a brightly colored cage full of sawdust. I had no idea what was inside! I couldn't see anybody! Turns out there where two little gerbils hiding in there - Creamy and Mummy. Creamy was still very young maybe 2 or 3 months... Mummy was about full-sized, a few months older probably. We don't know for sure! We also didn't know if they were boys or girls. But the pet store assured they were the same gender.
Later that year... we hear little squeaks coming from the cage.... oh my gosh... babies!!!!! 7 of them. We were able to give away 4 to friends... leaving us with 3 to add to the family. I just HAD to keep some of them.. they were so cute, and they were all mine! I did a lot of reading about how to care for them and what to do about the mom and dad... well.. a lot of people said the dad plays a crucial role in helping the mom care for the babies.. so.. we left him in the cage.. and of course.. a little over a month later... more gerbil babies!! We kept 2 from that litter. Ahhh! So much for having just two little gerbils in a cage on a small table in my boyfriends room. (I'm not complaining!)
There's now a large, extra-long tank consuming one corner of his room (housing the daddy & 4 sons,) a split-tank on the other side of the room (2 more boys..had to be separated.. didn't get along with the others..)... and then Mummy is all by herself in a cage on a shelf under them. But don't worry, I give her extra love to make up for her lack of having a cage-buddy. I know it sounds silly, but I love my gerbils so much! They let me hold them...although they are very squirmy.. oh well.. at least they've never bitten me! Gerbils can live anywhere from 2-5+ so I'm hoping for many more years of gerbil lovin'!