Lewandowski, N.H. GOP Revel in Successes at Seacoast Fundraiser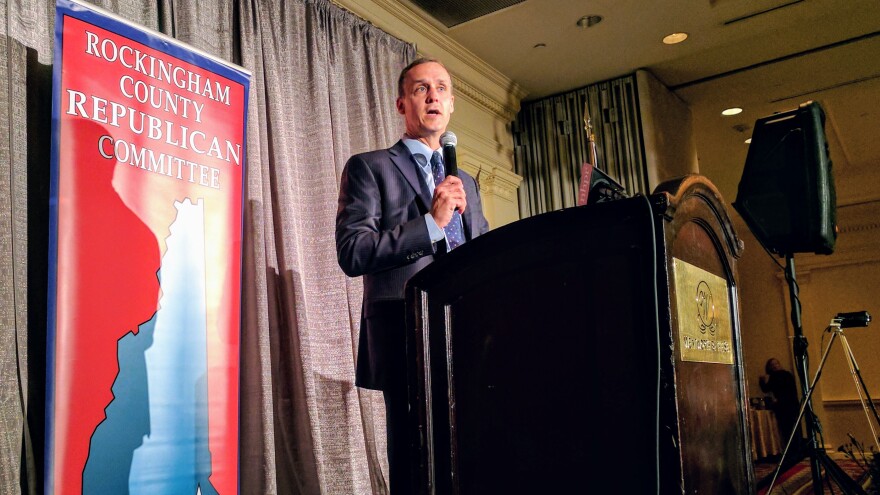 Last night, Donald Trump's former campaign manager Corey Lewandowski addressed Republicans at a fundraising dinner on the Seacoast. The event offered the New Hampshire GOP a chance to revel in recent victories and to look toward the future.
Inside a ballroom at the Wentworth by the Sea hotel in New Castle, a few hundred Republicans, at $100 dollars a plate, gathered under elegant chandeliers to enjoy cocktails, dinner, and their recent successes.
Diana Crowell, of the Seacoast Republican Women's club, summed up the mood.
"Just wanted to be part of a celebration, enjoying the winning, and getting a good evening of being with people that are like-minded."
The Republican Party does have a lot to celebrate at the moment. The GOP now controls the White House, the U.S. Congress, and, in New Hampshire, the governor's office and legislature.
Former Executive Councilor and GOP party elder Ruth Griffin thinks it will stay that way.
"I think that the leadership that Chris Sununu is presenting is what's going to keep us above board. I really do."
Governor Sununu worked the room early in the evening. But Griffin was most excited to hear from the night's featured speaker, Corey Lewandowski, who rose from relative obscurity in the New Hampshire GOP to lead Donald Trump's campaign through much of 2016.
"Well, I hope he's entertaining. If anyone can tell wild stories, it's Lewandowski."
Lewandowski had no shortage of stories to share from behind-the-scenes of the Trump campaign, but they were less wild than nostalgic.
"I can count on one hand the number of times candidate Trump sat down to have a meal. We would have McDonald's 4 nights a week. We'd get Chick Fil-A if we were really, really lucky, on the plane, which didn't happen very often. Wendy's was the other staple on the plane. And that's how we ate [laughter]."
Along the way, Lewandowski wasted no opportunities to attack familiar foes – Republicans who did not support Trump and the media.
"It wasn't that long ago, ladies and gentlemen, that we received our press from three people who sat behind an anchor chair at 6:30 at night and didn't want to be the news, they wanted to report the news. Those days are over. Now it's about clicks, it's about making sure their story is driven first, it's about saying things that aren't factually accurate."
In his own remarks, Governor Sununu captured the enthusiasm in the room by comparing it to the same event eight years ago.
"I remember going to this dinner just after the 2008 election…oh my god, that was a little different. And if you had told anyone in that room, 'don't worry, eventually Chris Sununu will be governor and Corey Lewandowski will be the guy in charge of changing the entire planet for the better,' they would've laughed at us. Look what a little time can do!"
But along with all the reminiscing and congratulatory rounds of applause, the fear of falling from this perch was never too far from the minds of attendees, including the governor.
Nodding to recent divisions within the state GOP over right to work legislation and the state budget, Sununu offered his party a warning.
"Right now in this state, the Democrats have nothing, nothing to throw at us, other than they hope and pray that Republicans will do what we do so well, and that's come apart. But we won't, we won't."
And, for at least for a few hours in New Castle, cocktails and campaign war stories were more than enough to unite a party on top.