Union-Backed Protesters Highlight Minimum Wage At Manchester McDonald's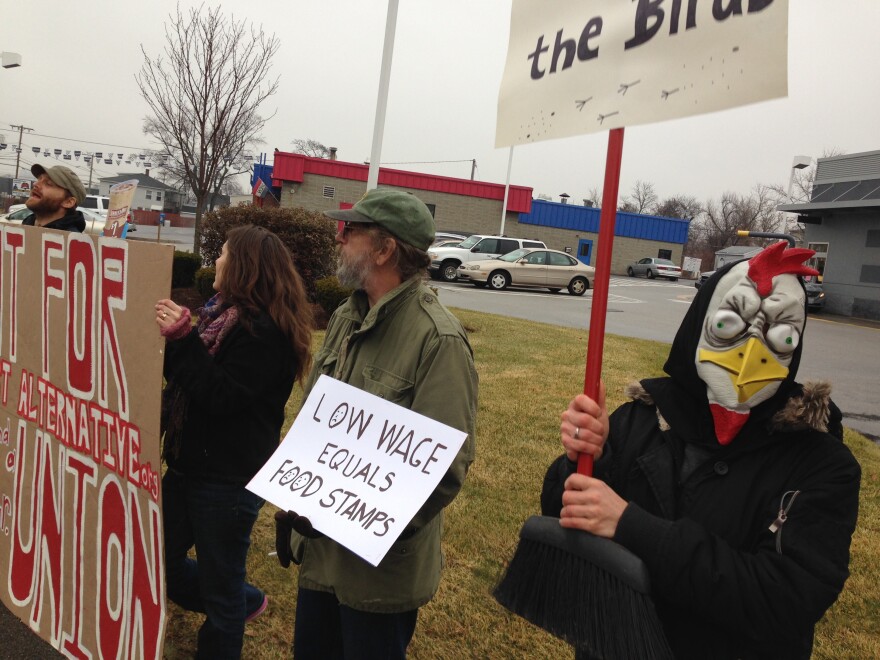 More than a dozen protesters lined up in front of a Manchester McDonald's to take part in a national effort to raise the federal minimum wage.
Demonstrations like the one at this Manchester McDonald's were going on across the country. The focus was on increasing the federal minimum wage but demonstrators here were all aware that New Hampshire has no state minimum wage since it was repealed in 2011. Lawmakers voted down an effort to raise the state's minimum wage to $9 earlier this year.
AFL-CIO organizer Kurt Ehrenburg says if New Hampshire reestablished its minimum wage and lifted it to $9, nearly 50,000 people would benefit. And, he says, companies like McDonald's can afford to pay it.
"In the case of McDonald's, the corporation just bought the new CEO of McDonald's a $30 Million private jet, and they can't afford to pay a wage that keeps people off of public assistance."
Restaurants like McDonald's are being targeted by union-backed efforts to raise fast food workers' pay to $15 an hour. Some restaurant workers have planned strikes.
During Thursday's protest, it was almost business as usual at this McDonald's.