Outside/In: The Flower Show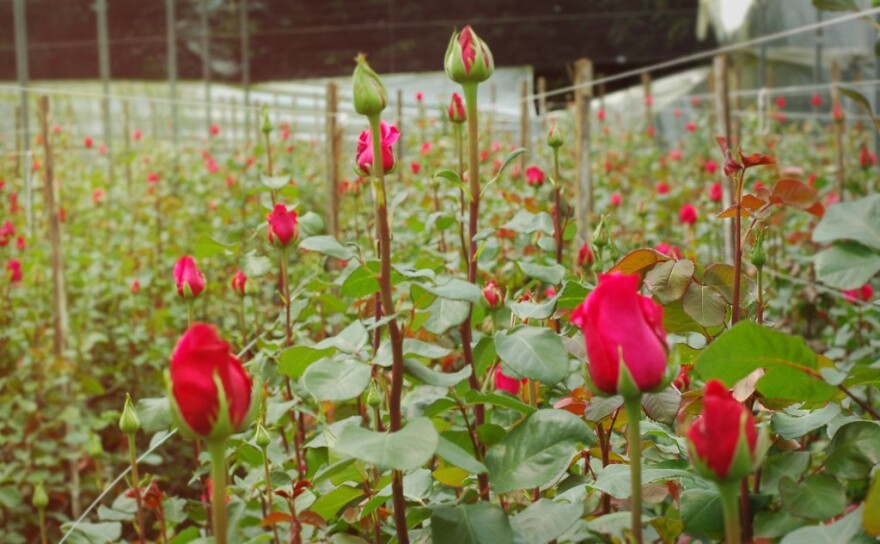 Stop and smell the roses business: On this episode of Outside/In, we trace the way many a flower gets to the vase, from South America to the grocery store.
Plus, we ask how the pandemic has reshaped the industry and led to a global flower shortage; explore one person's love of houseplants; and experiment with knotweed wine.
This story was originally produced in 2017 by Molly Donahue.
Fresh-cut flowers are one of nature's most ephemeral phenomena. Poets have written whole collections using the blossom as a metaphor for the briefness of life. But they rarely write sonnets about how the humble flower affects a country's gross domestic product.
"We've gotten used to this more technologically advanced way of growing things where if you want a rose in February, you get a rose in February even though that's kind of an absurd idea," said Amy Stewart, author of Flower Confidential.
In this episode, we're tracing the path a cut flower takes, step by step. We looked inside the $31 billion American floral industry to show you what it takes to ensure that one of nature's shortest-lived products arrives at the grocery store or florist's fridge and then makes its way to your kitchen table looking fresh as a daisy.
But if you're uncomfortable with the whole global flower supply chain, there's another option, something that Emily Herzig, a florist in Littleton, New Hampshire, works with fairly often: local plants and flowers. There's a movement known as Certified American Grown that has picked up steam, educating people about the potential profit in flower farms. In Emily's case, she does try to work with more local flower growers, both because it's a popular option, but also for practical reasons.
"There's a need for it, and it's environmentally better to be sourcing things from within the United States...cutting down on that carbon footprint of things being shipped from all over the world," said Herzig.
Featuring Amy Stewart, Carolina Loza Leon, Don Ivan, Isabel Ramirez, Emily Herzig, Chris Goodman, and Emma Brumenschenkel.
For more pictures and the full text of the story, check out the original episode post at outsideinradio.org.
Extra interview: How is the pandemic is affecting the cut flower business?
For the Love of Houseplants - Featuring Enthusiast!
Mark Bramhill
Trin Garritano "friggin' [loves] plants." But they got into their houseplant hobby through a surprising backdoor: video games, as they explained in this episode of Enthusiast!, a podcast about what brings us joy produced by Mark Bramhill.
"You're playing Stardew Valley, but like, in real life."
Eat the Invaders: Knotweed
Sam Evans-Brown
We revisit our erstwhile series "Eat The Invaders," in which we explored culinary strategies for managing invasive species.
If you have Japanese knotweed in your yard, chances are you curse at it, hack away at it, do anything to try and kill it. But we thought we should at least try to eat it, and we found a guy who even found a way to drink it.
This story was originally published in 2017.
knotweed_segment.mp3
Listen to the knotweed edition of Eat the Invaders
Update on this story: We reached out to knotweed winemaker Ken Hardcastle to see how things are going. Hardcastle said he's still making wine derived from knotweed honey, but confessed that, as New Hampshire's state invasive species coordinator Doug Cygan hinted, the knotweed in his backyard has indeed grown overwhelming. Hardcastle has even used herbicides to knock back the knotweed on his property.
But he's still experimenting. Not too long ago, Hardcastle infused a wine with the edible flowers of black locust trees collected from the trees in downtown Meredith, New Hampshire.