Wind, Footsteps, White Snow: Spending The Night At Mount Washington's Harvard Cabin
If you're looking to sleep overnight on Mount Washington in the winter you have two choices. You can stay at the Hermit Lake Shelters near Tuckerman Ravine - or you can stay at the go-to-spot for winter climbers - Harvard Cabin near the base of Huntington Ravine. But, as NHPR's Sean Hurley learned when he recently spent a night at Harvard Cabin, the pleasures of those winter days are matched by their dangers - and the responsibilities of the two mountain caretakers go beyond simply keeping track of guests.
Wind. Footsteps. White snow.
The 2-mile hike up the Tuckerman Ravine Trail takes a little under two hours. The cabin sits just off the path in a small clearing. There's a yellow brush on a log pile near the door – "Brush your feet" a sign reads. I do – and then step in.
One man sits near the woodstove reading a book – another lies asleep on the bench that runs along one wall. Caretaker Chris Wu, a 5-gallon bucket in each hand, says I'm just in time to help fetch water. "So I guess start the schpiel off with water," he says. "It comes out of the river. It's untreated. So if you want to boil, filter, sterilize...whatever. Do that by all means."
I stare at the fire for a moment – and we head back outside where Wu kneels down beside a hole cut in the ice of the Cutler River and begins to pan water into a bucket. "The magical watering hole…" he calls it.
Back inside, Wu puts the kettle on to make tea. "There's a lighter on the stove that you'll need to get the propane going," he says. "The lighter lives on the stove and if we find out that you've pocketed it? Pull ups. This is a climbing cabin, so!"
Just in time for tea, Hermit Lake Shelter caretaker Dylan Summers arrives. We sit, drink tea – and the two caretakers talk about the cabin - and life on the mountain.
"It is the sort of place that kind of flies under the radar," Wu says. "I think a lot of people would prefer to keep the character of the cabin as it is - as kind of the grungy little climber cabin where it is just climbers who show up. They pay their 15 dollars. They hang out and tell stories of crazy climbs that they've managed to survive and then they go out and check off another adventure the next day."
"Having it be your daily life really changes your relationship to what it means to be in the mountains," Hermit Lake caretaker Dylan Summers says. "It's not like a place that you vacation to, or place you go to get away. It's - it is your life."
As caretakers, both Summers and Wu keep track of guests, do a lot of shoveling, and make sure the rules are followed. "The other thing that we do sort of work together on is search and rescue," Summers says. "If there is an emergency, the Harvard Cabin caretaker and the Hermit Lake caretaker are sort of like potential first responders since we're already up here. So I haven't had any rescues this year - have you?"
Summers looks at his fellow caretaker.
"Yeah," Chris Wu says. "There was a fatality last Sunday. I was the first person sent out and I found the body. So...it's not...not my favorite day so far."
Wu says the climber who died stopped by Harvard Cabin that day. "But basically he just said, 'hey my partner is doing something else so I don't need my rope anymore, can I drop this off here and pick it up later?'" Wu recalls. "You know he was attempting to do something that I've done before just climbing alone up Central Gully. So definitely just that kind of climber, a climber thing like - I've done the same thing and if I had made the mistake I could have ended up the same way. You know that's kind of a hard thing to swallow."
He says he'll take me to Central Gully in the morning and tell me more, but for now suggests we make dinner. "Red onions, spinach, cheddar, pepper jack, and got some black beans," Wu says as he drops the vegetables into a sizzling pan.
Bedtime at the cabin is usually around 9 when the woodstove is shut down. We'll be sleeping upstairs on the second floor loft, he tells me. It will get cold. There will be snoring.
My pajamas are exactly what I wore up the mountain. Heavy jacket. Snow pants. And I wear my hat and gloves to bed.
I wake to hear the sounds of the radio - it's the morning weather report from the Mount Washington Observatory… "Current temperature is 5 degrees below," the forecaster says, "Yesterday's max degree temperature 10 degrees below…."
The next morning, after Wu transcribes the weather report and posts it on the door, he takes me on a mile-long hike to the base of Huntington Ravine and tells me about his search for the climber – who'd been reported as having not arrived at Pinkham Notch when expected.
We gaze up the steep ravine and Wu points out the sharp white slopeof Central Gully. "I had a kind of visual description of what he was wearing," he says. "Yellow coat. Red gloves. Black pants. Blue backpack. I was told that he might not have a headlamp so do a lot of shouting. Just try to establish voice contact if possible."
It was dark. 7 o'clock at night. A little below zero with winds gusting at 30 to 40 mph. Wu put on his crampons and began to ascend the precipitous gully, searching across the snow with his headlamp as he went. "Just yelling out, blowing the whistle," he says. "I basically went high enough into the gully that I had isolated the traffic that was just going up the snow slope. And then just traversed across the slope back and forth a few times looking for any sign of...anything really."
Though trained in wilderness first aid and survival, Chris Wu had never before participated in a real search and rescue. "Eventually I was crossing the slope and saw scratch lines through the ice - started following those down," he says. "Eventually I found an ice axe, a water bottle...and then I found a body that fit the description that I'd heard on the radio. That yellow coat. Blue backpack...all that."
As I'd learn later, the subsequent investigation determined that the climber, Jeremy Ullmann, died from a collision into the lower rocks at the bottom of the gully after a long sliding fall.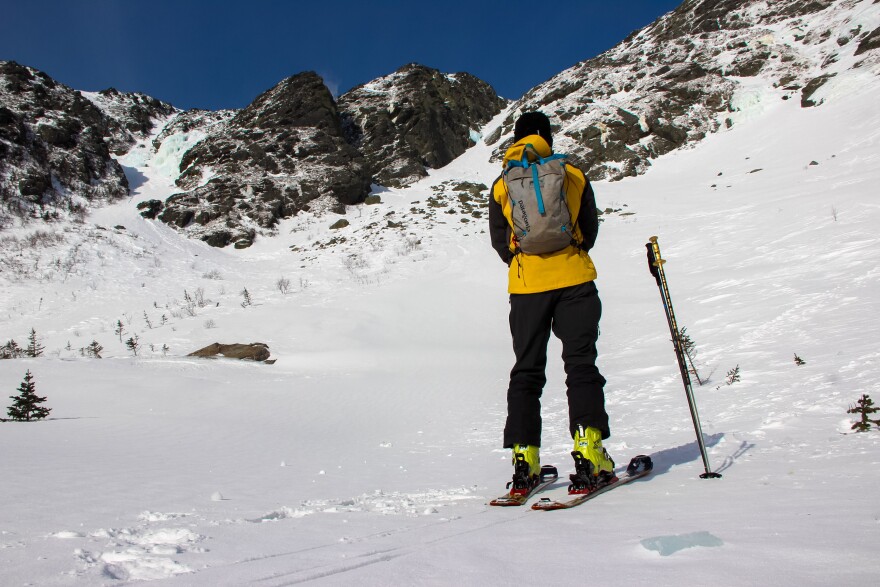 "You can see a kind of triangular rock low in the fan there?" Wu says and points the feature out. "Kinda looks like a shark fin? I think that will forever be etched into my mind as the place that I just kind of stood around and waited for half an hour. You know, first time I got called out. And, yeah...kind of realizing the mountain doesn't really care what you want to do that day."
I leave Chris Wu here. There are other climbers setting up below North and Central Gully and he wants to talk to them, to remind them of this fact of the mountain.
I head back down the Huntington Ravine Trail…Wind. Footsteps. White snow.