Will Stricter Penalties for Dealers Help Stem N.H.'s Drug Epidemic?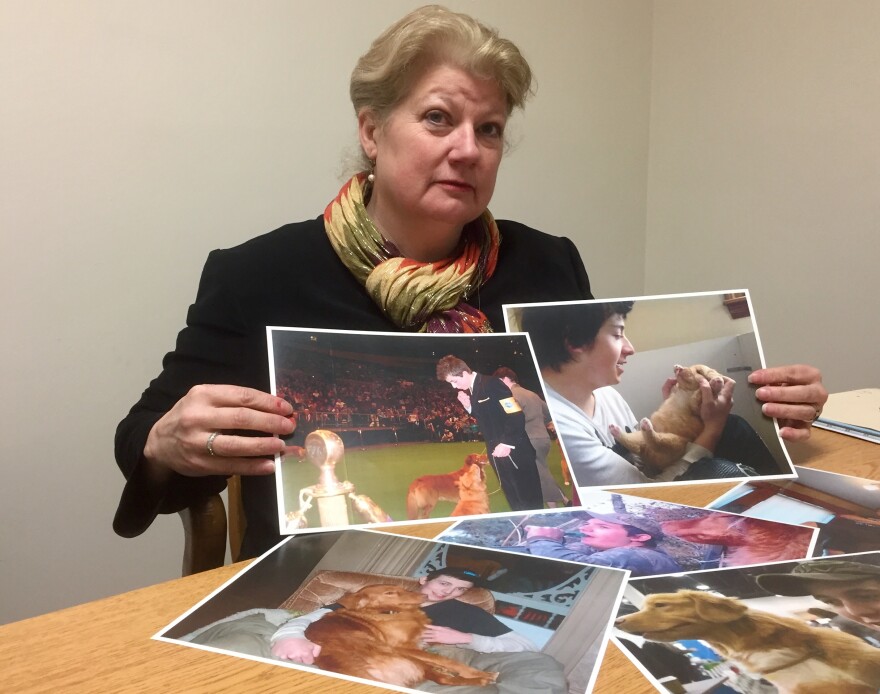 For the past year, state and county prosecutors in New Hampshire have started enforcing a decades-old law that allows them to seek tougher penalties for drug dealers who sell lethal doses.
So far, the policy has led to a handful of convictions, with sentences ranging from a few years to 20 years in prison.
But critics warn this strategy will have little effect on the state's epidemic of drug abuse.
Brian Watson of Northfield was known around town as a little league coach. He has three kids, was an engineer but a few years back the 52-year-old started using heroin and after he lost his job – began dealing it as well. The supply he was using was found to be laced with fentanyl.
And in April of 2015 – he sold a dose to 21-year-old Seth Tilton-Fogg. It killed him.
Earlier this month, Belknap County Judge James O'Neill sentenced Watson to 20 years to life in prison.
"Enough, is enough. Those who choose to sell this poison, those whose actions are responsible for the untimely death of others must understand that if convicted they will suffer severe punitive consequences," Judge O'Neill said right before he read Watson's sentence.
Watson was prosecuted under a criminal statute called the sale of drugs with death resulting. It's been on the books for three decades and similar to second-degree murder – has a maximum sentence of life behind bars. Until recently it's rarely been used.
But last spring, New Hampshire Attorney General Joe Foster called on prosecutors to start holding dealers responsible for their role in the drug crisis, which killed at least 450 people in New Hampshire last year.
Assistant Attorney General Ben Agati is the state's lead prosecutor in "death resulting" cases. He compares the new policy to the crackdown on drunk drivers.
"They did not intend to kill somebody when they got behind the wheel but they're strictly liable for that death because they knowingly gotten behind the wheel when they were intoxicated," Agati said. "And in this case, we have somebody who knowingly dispensed a drug that is known to be a deadly drug and lo and behold that is what happens."
As the drug crisis continues to kill hundreds of people each year in New Hampshire, this has been a popular approach for prosecutors looking to make an impact.
But some legal experts and treatment advocates say the policy is misguided. They argue that previous attempts to curb the supply and demand for drugs with tougher penalties haven't worked and the dealers who have already been prosecuted were - like Brian Watson - themselves addicted.
Linda Paquette, who heads the drug-treatment advocacy group New Futures, says putting them in prison means they are less likely to get treatment.
"We are criminalizing the disease of addiction by doing this instead of focusing our resources on prevention, treatment and getting people into recovery," Paquette said.
New Hampshire is one of more than 20 states with so-called "drug-induced homicide" laws, although most states haven't aggressively enforced them since the crack-cocaine epidemic more than two decades ago.
"We are criminalizing the disease of addiction by doing this instead of focusing our resources on prevention, treatment and getting people into recovery," said Linda Paquette of New Futures.
But that's changing across the country, driven in part by the rise in deaths attributed to fentanyl, a substance that's 50 to 100 times stronger than heroin. According to the Drug Policy Alliance, a number of states, including West Virginia, Pennsylvania and New York are now aggressively going after suppliers in fatal overdose cases.
David Rothstein is deputy director of the state's Public Defender's Office. Last year his lawyers handled 12 such cases – which is up from an average of one case annually in previous years.
"In our experience the people who are getting caught up in this and getting prosecuted are much lower-level if not purely addicts themselves who are potentially facing long-terms in prison, much longer terms in prison than they would face had they been prosecuted for merely the sale of heroin," Rothstein said.
Rothstein says the state's prosecution of small-time dealers has put a strain on his office. These cases, he says, take up to 10 to 20 times longer to litigate and require more expertise such as interpreting toxicology reports and lab results. So much so back in December Rothstein helped organized an all-day training session just on these issues.
The new policy has also led to changes on the prosecution side. Drug overdoses are now being treated as crime scenes, the state's hired an additional drug prosecutor, a new part-time medical examiner as well as provided hundreds of thousands of dollars to reduce the backlog at the state's crime lab, which currently stands at 3,400 cases.
State officials are projecting that a total of at least 477 people will die from drug overdoses by the end of 2016, which is up from the previous year.
However, some experts such as Buzz Scherr, a criminal law professor at UNH, aren't convinced this strategy will work when it comes to people who suffer from drug addiction.
"Used to be I can only get 20 years in jail for dealing drugs if I get caught in a certain way, but now that I can get life in jail for dealing drugs that's going to change my mind," Scherr said. "I'm just not sure, well as rational a way of thinking of that situation is, I'm just not sure the people that they are targeting are going to be thinking that way."
While it's too early to know for sure what effect the new policy will have on the state's drug crisis, Brian Watson's 20-year sentence brought a small measure of peace to the victim's family such as Judy Tilton, who described her son, Seth, as an avid outdoorsman, a dog lover and caring son.
"Nothing that happened in that courtroom or is going to happen in that courtroom will ever bring my son back but knowing that he can never do this to somebody else's family is the key," Tilton said.
Currently more than one hundred "death resulting" cases are being investigated by the Attorney General's Office with a dozen resulting in charges so far.