Legacy Delayed: Nashua Locked In Two-Year Debate Over New Playground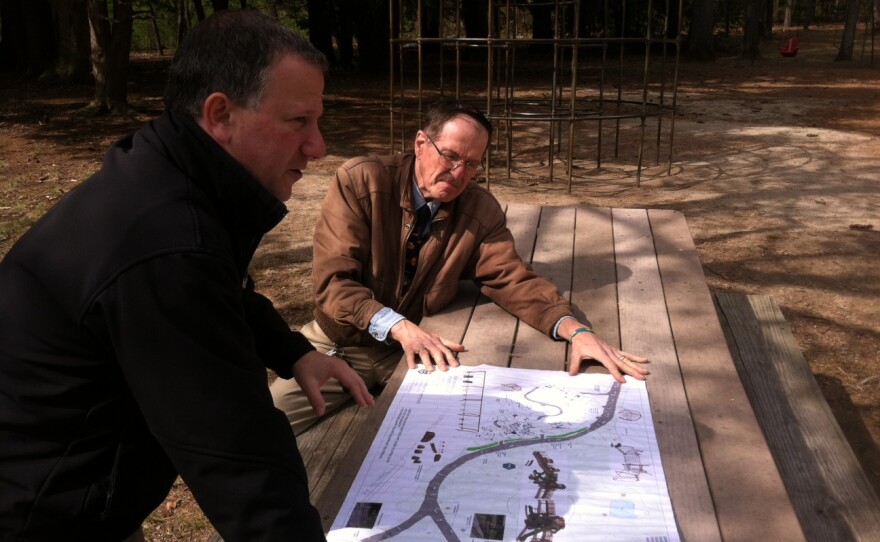 Legacy Playground organizers Eric Brand, left, and David Robbins, discuss their proposal near Greeley Park's current playground.
NHPR / Michael Brindley
Greeley Park was established in 1896.
NHPR / Michael Brindley
The playground dates back 70 years, aside from one area, seen to the right.
NHPR / Michael Brindley
Signs of rust are visible on the slide at the Greeley Park playground.
NHPR / Michael Brindley
Officials in Nashua expect the results of a study this week that aims to bring closure to a debate that's divided city residents over the past two years.
And all of it is over a playground.
A group is raising money to give the city a new playground that would be designed for children with disabilities, but could be used by all.
At 11,000 square feet, the proposed structure would be the largest of its kind in New Hampshire.
But it's where they want to put the playground that has some residents pushing back.
It's one of the first warm, sunny Sundays of the spring here at Nashua's Greeley Park.
Jennifer Jordan's two sons are climbing on a jungle gym that is showing signs of rust, just like the slide and the swings at the park's 70-year-old playground.
"Well, it definitely could use some work. I mean, with the cracks in the ground and everything. It's mostly just climbing or playing on the swings. There's not much for younger kids or kids with disabilities."
And it's exactly that type of upgrade that a group of people in the city want to provide.
Project organizer Eric Brand rolls out the blueprints for the proposal on a nearby picnic table.
"We were playing around with the ideas of actually having an accessible swing that you can actually put a chair onto so you can strap the chair down. So somebody that uses a chair doesn't actually have to be removed from the chair, put into that type of hardened swing with that type of support."
Brand is a member of the Leadership Greater Nashua class of 2012, a program run by the city's Chamber of Commerce.
Each year, those involved come up with a project to improve the city.
Brand has a child with multiple disabilities and says their proposal, dubbed Legacy Playground, was to replace the outdated playground equipment.
And they'd do it all with private donations.
"I believe all of our intents at that point was by October of 2012, we were going to be building a playground."
But things haven't gone exactly as planned.
"For some reason, people have fixed on taking what's really the front lawn of the city and using it as a gym and building a plastic playground, which just doesn't blend with the vintage quality of this area."
Robert Earley, who lives just a few blocks from the park, is here collecting soil samples to see whether the ground is suitable for new construction.
He's concerned about a lack of parking.
Plus, he doesn't see anything wrong with the current playground equipment.
"Three generations of my family have used it. It's pretty rock solid as far as I'm concerned. It's very consistent with historic character of the park."
Greeley Park dates back nearly 120 years.
Joseph Thornton Greeley donated the 125 acres of land to the city, and the park was established in 1896.
A sign there describes it as a place to rest and enjoy nature.
The one thing both sides agree on is that it's the jewel of the city.
But the debate centers on what the future character of the park should be – green space or play space?
Mayor Donnalee Lozeau supports the Greeley Park proposal, and says the prolonged debate needs to end.
"I think it's been very divisive. I think people have taken things personally. I think the things that they've said about each other as part of this process is very destructive to the community and I'm disappointed. I'm embarrassed that we're having this kind of argument."
Brand agrees, and says people can't understand the hold up.
"I know some of the comments I hear when I'm out and people ask me about it. Their comments are, 'It's a playground. What is the big deal?'"
But it's become a very big deal in Nashua.
At a meeting last month, opponent Dennis Nyhagen accused playground organizers of manipulative tactics.
"We had deceptive surveys, deceptive tallies of promotion of the effort, deceptive petitions, a full gamut of disingenuous lobbying tactics. We didn't need more of that."
There have been additions to the park over the years, including a band shell in 1989 that still rankles some neighbors.
In an effort to preserve open space, a moratorium on new construction at Greeley Park was put in place in 1997.
That means Board of Aldermen must approve any new projects.
But they're just as divided.
Last month, aldermen voted 8-7 to initiate a $5,000, third-party study that will evaluate 10 potential sites for the playground, including Greeley.
The results are expected this week.
While the playground would be free, the city would be on the hook for maintaining it.
It's estimated there would be roughly $86,000 in infrastructure costs if the Greeley Park site is chosen.
Lozeau says she's confident the study will show Greeley Park is the ideal spot.
"And then depending on what the study comes back and says, I think the next question really is about how do we make it happen. Affordably, effectively, and without losing the character of Greeley Park."
Still, project organizers say they're growing frustrated.
Brand says if the city doesn't make a decision soon, construction on the project, wherever it is, may have to be delayed again until next year.
The group has raised roughly half of the $250,000 it needs, but they haven't been actively fundraising for several months.
Brand says it's difficult to fundraise with no site.
"We're here right in front of the community to give a gift to the city, to help the city in an area where it desperately needs help. Why not accept it? Why not accept it at a location where it definitely needs it?"
Once the study comes back, aldermen will have to decide whether to concur with its results.