0000017a-15d9-d736-a57f-17ff8cdb0000 This blog features news and updates about NHPR events, staff, and fund drives. Also, a behind-the-scenes view of life at NHPR!
A Day In The Life Of An NHPR Intern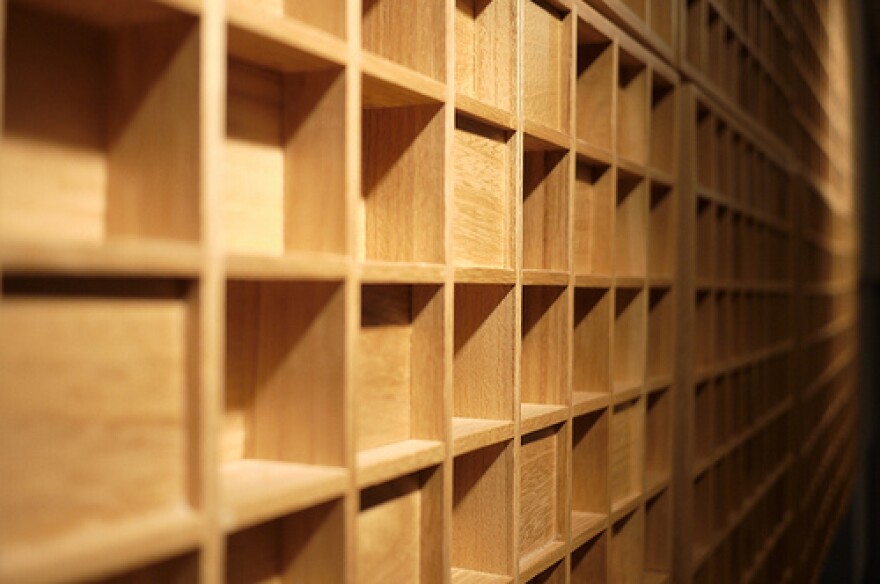 What's a typical day like for the Word of Mouth intern at NHPR? I'm so glad you asked. (And even if you didn't ask, I'm sure my mom and dad will be interested, so it's cool.)
8:30:09
Having really accurate clocks all over the place can make a person like me who hates being late and is mildly obsessed with numbers a little anxious. For example: I try really hard to walk into the Word of Mouth pod at exactly 8:30:00. Sadly, it has yet to happen. I'm either too early, or in this case, a wee bit late.
8:52:38
Mornings in the WoM pod are a little hectic and occasionally intense. The show goes on the air at noon, so every morning the team is actively putting the show together. This starts with a quick meeting to discuss the segments scheduled for the day.
I love these morning meetings because I love being surrounded by smart people. I keep thinking all the intelligence in the room will somehow seep into my brain, though not through osmosis (that one's for you, Sara Plourde.) These meetings really show me how much the team cares about telling stories to the WoM listeners in a new and unique way. A lot of time and care goes into the building of scripts for the show, and a big part of that is thinking of great questions to ask.
The Word of Mouth team is a pretty chatty group, but this time in the morning is sometimes eerily quiet. It's in these quiet moments when everyone is hard at work…
...that I start to feel a little stressed about the show. I'm always conscious of my contribution to the team and I try to make sure the work I do is in keeping with the high quality of the show. In these nervous moments I often look across my cube to Josh Rogers' cube.
Josh appears to be an incredibly calm and even-tempered reporter. Somehow knowing that he remains calm even as he works in what appears to me as utter chaos...well it calms me down a bit.
As Taylor works on the various scripts and sound editing that needs to be done for the show, he is constantly updating the weekly show calendar.
He color codes the segments—black vs. blue—depending on whether or not he's booked a particular guest and eventually writes in the optimal time for each one in red. My standard job in the morning is to take each one of those segments that we produce and create a web post. I try to do that job as quickly as possible so I can be available to do additional tasks for the team. The other day I was assigned the glamorous task of watching a senator's farewell speech on C-SPAN.
(This being my first ever internship, I have a warped view of what an internship should be like. No one ever asks me to pick up their dry cleaning or vacuum their keyboard. Weird, right?)
I kind of love watching C-SPAN and I particularly love looking for a needle in a haystack, which in this case was a little 15-second sound bite embedded in a 35-minute speech. There's something incredibly rewarding about finding a little piece of sound in a rather long and somewhat boring speech (sorry, Senator Conrad!).
11:45:00
Just before the show, Taylor heads into the producer's booth to check the sound for the show.
He listens to each of the day's sound files that have been uploaded to the 'vault'. (In previous jobs I have had access to a large walk-in bank vault and a museum vault that housed the most valuable items in the collection. The 'vault' at NHPR is infinitely more mysterious, because it's not actually a physical place.) Taylor checks all the clips to make sure that the levels are good and that the files have actually made it into the 'vault' at the right bit rate. (Now I'm just throwing around jargon to try and impress you. Is it working? You know, I don't even think that's the right word. Just forget I said that.)
Dan Colgan is our board operator, but sometimes he actually takes time off and then Zach gets to run the board!
The board has a lot of buttons. I might go so far as to say that the board is even MORE mysterious than the 'vault'. There are a lot of buttons and I want to press them all, but I am not allowed to go near the board. This is a self-imposed restriction.
Taylor is fake directing in this next shot for my benefit, but basically all directing consists of is pointing at people while wearing headphones and swinging your hips to the beat of the music bed. Right Taylor?
My job during the show is to call the guests who are about to be interviewed. I really don't enjoy talking on the phone in my personal life—I actually avoid it as much as possible—but I really love calling guests.
This is the view from my perch.
On occasion, our guests join us via Skype or ISDN. When that happens I get to use this rather intimidating piece of equipment.
12:07:00
The show officially starts at 12:07, just after a news break. That's when Virginia­­ (and sometimes Rebecca or Brady) kicks-off the show.
Virginia gets her own box of buttons to press, which I have also banned myself from touching.
1:00:00
The team does a post-mort (Oooo! More lingo!) after the show and I head off to lunch. As soon as the sound from the show is available, I edit the full show down into the respective segments and attach them to the appropriate web posts.
At this point everyone starts in earnest to work on the next day's show. And here's the thing, it's cyclical and the work is never done. But every day, EVERY day, I learn something new. Whether it's learning about cicadas from Joe Hanson; or talking to my favorite comic strip artist/author, Ryan North, via Skype after his interview; sharing a homemade granola recipe with Bea Johnson; filming Darlingside when they played live in our studio…
...and just hanging out with the amazing team here at Word of Mouth...
...my brain is filled each and every day with more and more fascinating information. This is the most fun I've had in a very long time. Thanks guys!