Dartmouth Murals Become National Historic Landmark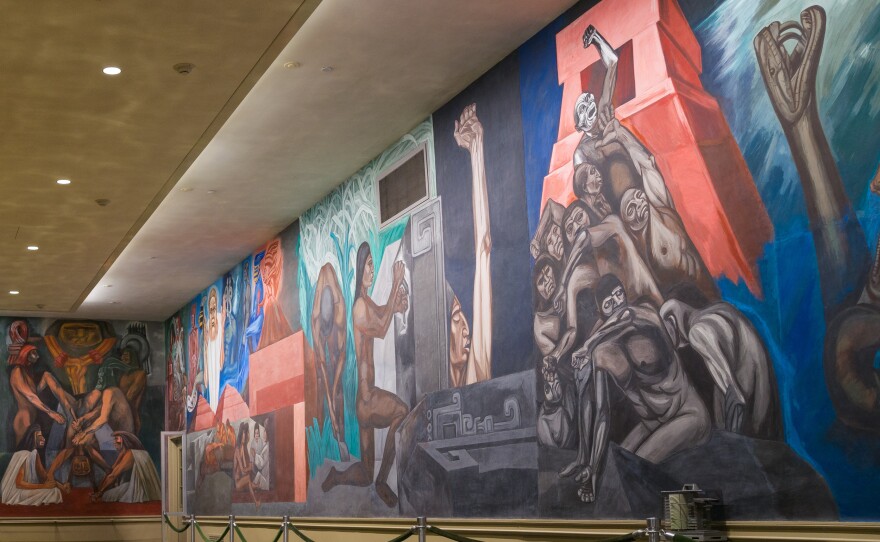 Eli Burakian/Dartmouth College
Eli Burakian/Dartmouth College
Eli Burakian/Dartmouth College
Eli Burakian/Dartmouth College
A set of murals at Dartmouth College by the Mexican artist Jose Clemente Orozco has been named a national historic landmark. Among the other sites to receive this designation on Monday were a Civil War battlefield and the home of antislavery author Harriet Beecher Stowe. The Orozco murals have been added to the list of just more than 2500 national historic landmarks across the country.
Winter term at Dartmouth is drawing to a close. As students hit the library to study for final exams, some are doing their last minute cramming surrounded by a national historic landmark—murals by Mexican artist Jose Clemente Orozco. Dartmouth freshman Nick Simmons took a break from writing his final paper about Romeo and Juliet to take a look at the paintings.
"They're striking, definitely. They're certainly not ordinary. And they definitely draw your attention. Actually sometimes people, I know people have said that they don't like studying in here because it's difficult to focus, because it draws their attention from their studies to the walls."
Created in the early 1930s, the mural cycle covers the walls of the reserve reading room in Dartmouth's Baker-Berry Library. It's titled The Epic of American Civilization. In broad brushstrokes and bold colors, the expressionist paintings depict the history of North America before and after conquest by Spanish explorers. And it's not a pleasant story.
"Instead of treating the history of the American epic as one of gradual enlightenment, his story about the modern world is one about the traumas and the legacies of violence, of a modern world that's born in violence."
That's Mary Coffey, a professor of art history at Dartmouth who specializes in Mexican muralism.
As you walk along the twenty-four mural panels you see larger-than-life, distorted human figures. In one half of the room is the ancient Mexican world, with images of Aztec warriors, gruesome human sacrifice, and then a pre-Columbian golden age. In the other half, the arrival of the Spanish conquistadors ushers in a modern dark age of industrialism and war. Coffey says there's a reason the famous Mexican muralist chose to paint this account of American history at a small New Hampshire college.
"Dartmouth, as a college in New England, had origins that predated the founding of the United States. This was important to him, to kind of honor and recognize the fact that this institution existed before the Americas were divided up into discrete nation-states."
Born in Mexico in the 1880s, Orozco became one of the most well known artists from the Americas in his day. In 1932, Dartmouth's trustees commissioned him to paint these murals, and he spent two years in the Granite State, as artist-in-residence at the College.
Now, Coffey says, Orozco's murals symbolize the influence of Mexican culture in the United States. She sees their designation as a landmark as part of a recent trend towards recognizing that influence when choosing these historic sites.
"So it's not just that oh, suddenly in the 1990s or in the 2000s we recognized Mexican culture in the United States. A mural like this says, look, it's always been here, and there have always been people who have recognized it and seen it as valuable. So valuable, in fact, that they would commission a Mexican artist to paint a mural in a New England institution in the heart of the Depression."
But Orozco's work wasn't always welcome. The paintings are critical of European settlement of the Americas, of industrialization, even of institutionalized education. Coffey says those are things that didn't go over well with everyone in the Dartmouth community in the 1930s.
"Many alumni did not like the mural. The first reaction was just, "It's ugly. We don't like this kind of art. We want heroic pictures of our founders." They thought that it was attacking the institution, that it was attacking the United States, and that a Mexican should not be painting in a New England institution."
Back then, the college resisted pressure to censor the murals. Now that they are a national historic landmark, Coffey says, they're certainly not going anywhere. And they may see a few more visitors than students seeking a quiet place to study.