2 Dead, 35 Infected in COVID Outbreak at Newport Nursing Home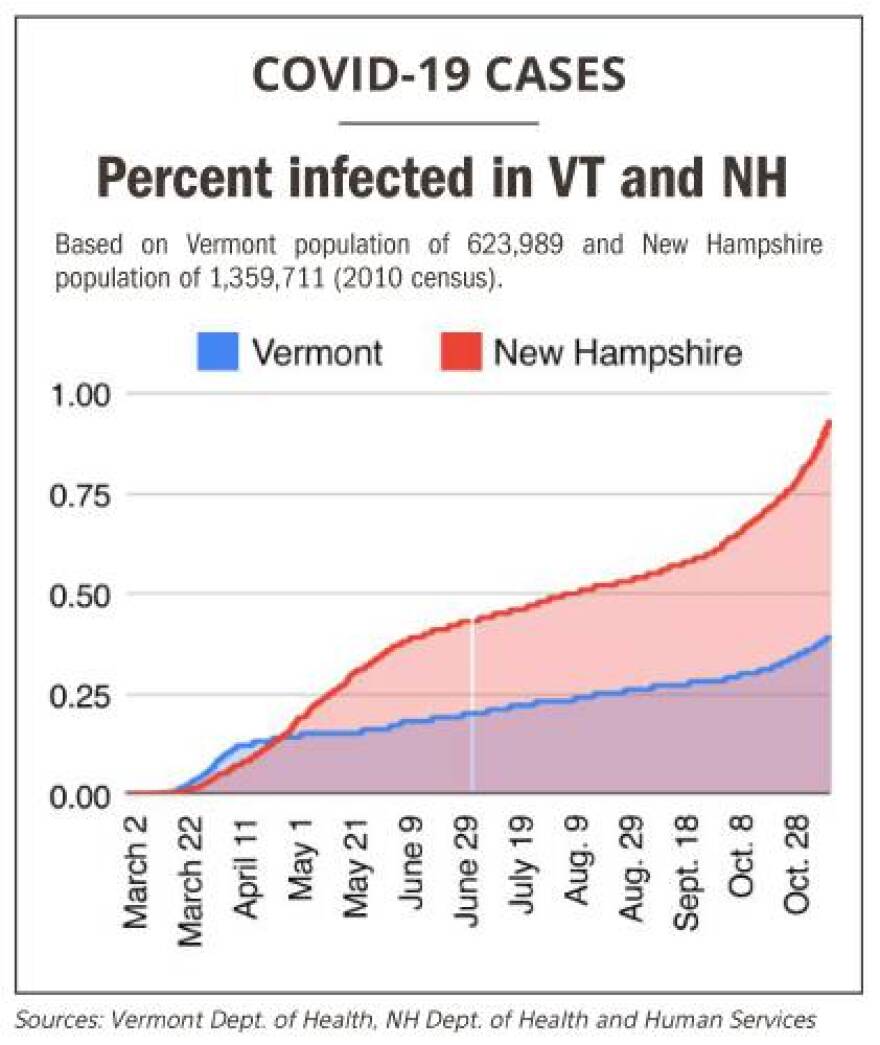 A COVID-19 outbreak at Woodlawn Care Center in Newport has grown to include 35 people, two of whom have died.
The outbreak, the largest in the Upper Valley thus far, now includes 22 residents and 13 staff members, one of whom has recovered, said Chris Martin, Woodlawn's administrator, in a Tuesday phone interview. Two residents died after contracting the disease.
These articles are being shared by partners in The Granite State News Collaborative. This story was first published in the Valley News. For more information, visit Collaborative.org
Determining whether the residents died "with COVID or from COVID" is "above my pay grade," Martin said. A third resident, who did not test positive, also died after the outbreak began on Oct. 21. A fourth resident is hospitalized, he said.
Still, the situation at Woodlawn may be improving. The Newport nursing home on Pine Street has not had any new cases in two days, Martin said.
"I hope we're on the other end of the curve," he said.
The nursing home had a positive response to a plea for additional staffing it issued on Saturday, he said. Six new workers have come on board and additional applications are processing. In addition to staff who are infected and isolating, Martin said others aren't working during the outbreak because they have preexisting conditions or other issues.
Some staff members who tested negative for the virus reported that school districts asked them to keep their children out of classes, and that their spouses' employers have asked them to stay home from their jobs, further complicating the situation, Martin said.
"A lot of the workers here have been stigmatized," Martin said, noting that public health officials do not recommend quarantine for contacts of people who have had close contact with someone with COVID-19. "It's awful."
He said he hoped officials at the New Hampshire Department of Health and Human Services could convince one large employer and two small school districts to reconsider.
"People are scared," he said. "I think people thought Sullivan County would be immune."
As of Monday, there were 55 active cases of COVID-19 in Sullivan County, including 32 cases in Newport and six in Claremont.
There were 102 cases in Grafton County, including 11 in Lebanon and five in Hanover.
In the past two weeks in Vermont, there have been 23 new cases in Orange County and 21 in Windsor County.
There were a total of 2,057 active cases and 56 people hospitalized in New Hampshire as of Monday. There were 526 active cases and 12 people hospitalized in Vermont as of Tuesday.
These articles are being shared by partners in The Granite State News Collaborative. For more information visit collaborativenh.org.