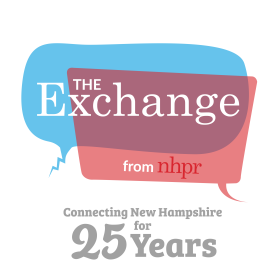 The Exchange is New Hampshire's only locally produced statewide call-in talk show, hosted by Laura Knoy. It airs live at 9 a.m. and is rebroast at 9 p.m. weekdays.
We want to hear your feedback on The Exchange: Click here to submit it through our survey.
Coming up on The Exchange:
Monday, June 14: Laura Knoy Reflects on 25 Years With The Exchange
Tuesday, June 15: On Juneteenth
Wednesday, June 16: Replay: 2021 Summer Book Show
Thursday, June 17: Replay: What To Expect on the Trails This Summer
Friday, June 18: Replay: On Juneteenth
You can reach the show by email at exchange@nhpr.org, by tagging us in a tweet, following us on Instagram, or sending a message to our Facebook page. You can also call in during the live show at 800-892-6477.
Want more of The Exchange? We have a podcast!
If you can't listen to the live show or don't live in our broadcast area, you can listen to our show online (just open the day's show post below) or subscribe to our podcast.
Here's a handy video we made to help show you how to subscribe:
Click here to get it on Apple Podcasts, and click here to find us on Stitcher. (Don't know how to find and listen to podcasts? Click here for a handy guide created by our friends at VPR!)

The Exchange presents a special broadcast of Writers on a New England Stage with Kevin Kwan. Host Peter Biello talks with the author of the bestselling…

The Exchange presents a special broadcast of Writers on a New England Stage with environmental activist Erin Brockovich. Air date: Thursday, July 1, 2021.…

The Exchange presents a special broadcast of Writers on a New England Stage with economist and New York Times columnist Paul Krugman.Air date: Wednesday,…

The Exchange presents a special broadcast of Writers on a New England Stage with Diane Rehm.Host Peter Biello speaks with the former NPR host about her…

The Exchange presents a special broadcast of Writers on a New England Stage with Rebecca Carroll. Carroll is an award-winning author, podcast host and…

We discuss the latest news about the new state budget, including the controversial 24-week abortion ban. We also explore the extension of the federal…

We focus on some of New Hampshire's under-appreciated animals: opossum, porcupine, and fisher. They don't grab headlines like the state's larger wildlife,…

You may have zoomed right by the broad green signs, but stopping for a moment to read a historical roadside marker gives a sense of the depth and…

Have you hiked Mount Lafayette in N.H.'s Franconia Notch? We talk with N.H. author Ty Gagne, about his new book "The Last Traverse: Tragedy and Resilience…

Robert Frost famously said "good fences make good neighbors" and if you're out for a walk in the woods in New Hampshire, you will likely find a stone…