For Some N.H. Voters, Volunteering At The Polls Helps Ease Election Anxiety
During the pandemic, Jen Hutchins and a few of her friends started a new practice: they're trying to walk every street in Hanover, and they keep track of where they've been on a spreadsheet.
On each walk, there are a few topics that always come up.
"We talk about politics every single week, and we talk about COVID every single week, and how those two things impact our lives," Hutchins said.
Get NHPR's political reporting in your inbox...sign up for our Primarily Politics newsletter today. 
On one of those walks a few months ago, Hutchins and her friends were talking about how polling places might be riskier for the more vulnerable people who usually staff them.
"The volunteers that we see are always older," Hutchins said.
So she wondered, would the town of Hanover need younger volunteers?
The question was well timed. A few days later, Hutchins received an email that said the town was looking for younger people to volunteer in the primary and general elections because they didn't want to expose older volunteers to the risk of COVID.
"I signed up as soon as I could," said Hutchins, who's 39 and is currently taking care of two kids at home.
For the September primary she volunteered as a greeter, welcoming people to the polling place at the Leverone Fieldhouse and asking them to sanitize their hands before entering.
Like Hutchins, voters across New Hampshire say there is increased anxiety around the upcoming election because of changes to the voting process brought on by the pandemic and the heightened political climate.
But for her and Jess Brooks, another fellow first-time volunteer, getting to see the process up close is helping ease some of their worries.
Brooks is a doctor, and checked voters' temperatures as they walked in. She says voting in Hanover has always been smooth for her. Spending four and a half hours at the polling place made it clear why that was the case.
"You see that it's not really by accident or by chance. I think a lot of work and person-power goes into planning the election upfront," Brooks said. "They really rely a lot on volunteers. I think It's a matter of good leadership but also a lot of community involvement."
Brooks says it was also reassuring to witness all the votes being counted carefully in September.
But at the same time, she says the national conversation around absentee ballots - from delivery to being accurately counted - is a lot to sort through.
"It feels a little tricky nowadays to know what's misinformation and what's real," she said.
Brooks voted in person in the primary, right before her volunteer shift started. But Hutchins, her fellow volunteer, voted absentee and plans to do the same come November.
Hutchins says she has experienced delays with her personal mail, so she feels most comfortable hand delivering her absentee ballot to the town clerk, rather than mailing it.
After seeing the election process up close, she feels confident with this choice and says she knows her absentee ballot will be counted. But she hasn't fully convinced her husband, who's also requested an absentee ballot and is on the fence about whether he might still vote in person.
"His point was that the only way to truly ensure that your vote is counted is to put it in the machine yourself," Hutchins said.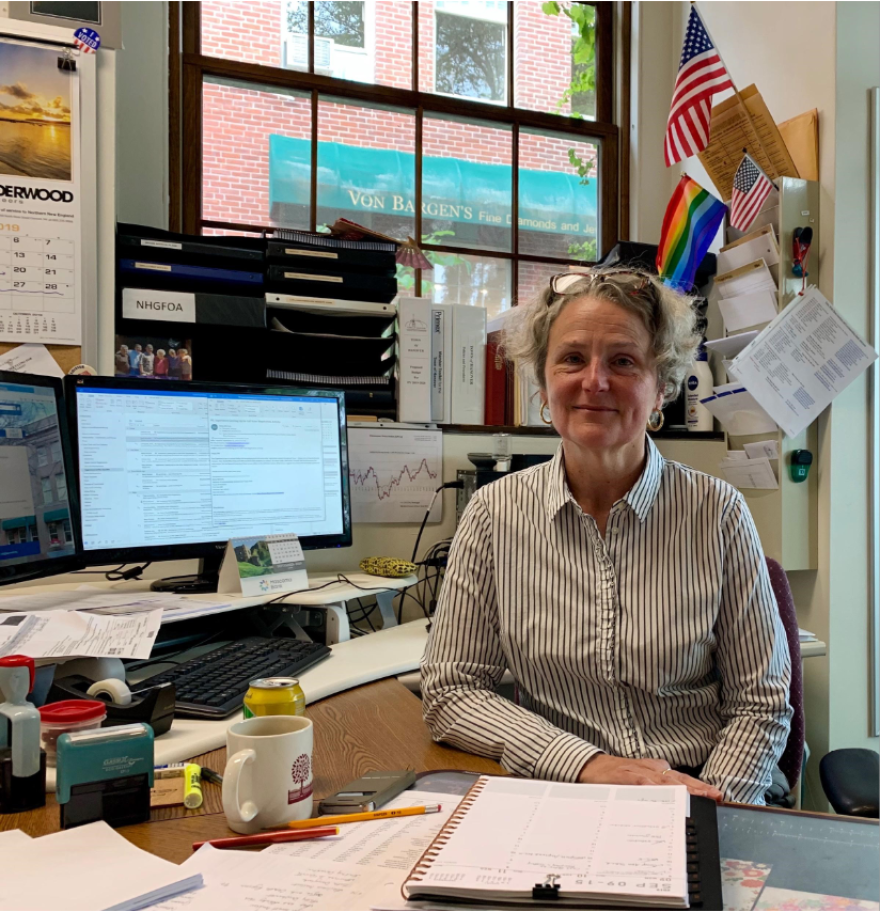 Hanover Town Clerk Betsy McClain has been hearing these kinds of anxieties for several months. But she says there are a lot of safeguards, whether you're voting absentee or in person.
"Every step of the way, there are people that are really taking time and deliberate care to make sure that it comes back and it gets in the right place so that it can make it to the polling place, so that people hopefully will know that an absentee ballot in our careful hands is as good as putting it in the ballot box," McClain said.
Sixty-seven percent of Hanover voters cast absentee ballots in the September primary, and the state's expecting a record increase for the general election too.
Story continues below the map.
Map: How Much of Your Local Electorate Voted Absentee In The Primary?
If you're having trouble viewing the image below, click here to open it in a new window.
As of Tuesday, October 20, more than 136,000 absentee ballots had been returned for the November election, and more than 200,000 have been requested.
But the increase in absentee voting hasn't just brought more questions. It also brings more paperwork. And to process that paperwork, communities like Hanover are more actively recruiting volunteers to handle the load.
McClain says that's been the silver lining in the pandemic for her. 225 people have volunteered to work the polls for November, from young parents to undergraduate students. In most general election years, Hanover has about 80 volunteers.
"That way it just integrates the whole community into something that should be a community event," McClain said, "instead of just a cohort of people who happen to have the time running your elections. It really should be all of us."
The same thing is playing out across the state - no matter where you live, your neighbors are the ones making this election happen.
And McClain is hoping some of the people who joined the process this year will stick around to help with elections in the future.