0000017a-15d9-d736-a57f-17ff906a0001Join Morning Edition's Rick Ganley on the road as he explores the places and gets to know the people that make the Granite State a little more interesting.Do you have ideas for a future radio field trip?Do you have a favorite place in New Hampshire that you'd like to show us? Fill out the form below and let us know!0000017a-15d9-d736-a57f-17ff906a0002
Radio Field Trip: Discovering the Town of Harrisville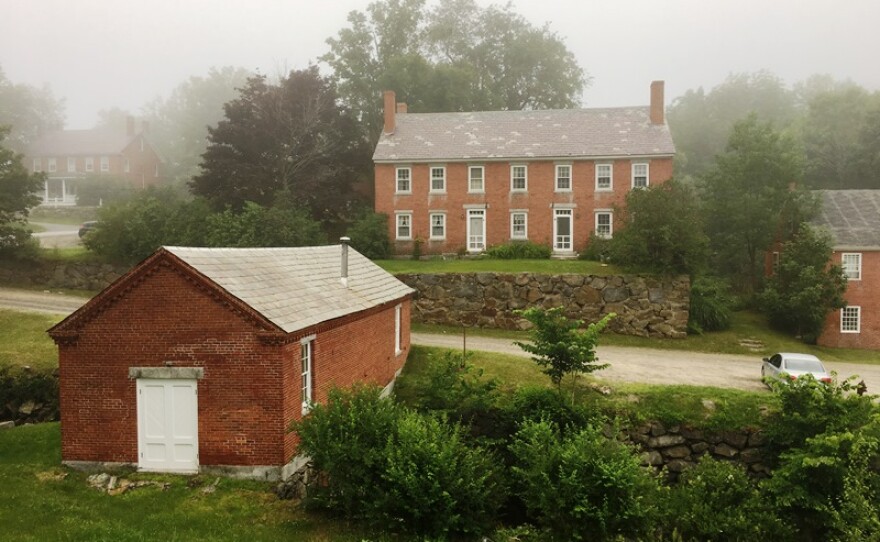 courtesy of Historic Harrisville
courtesy of Historic Harrisville
On this week's Radio Field Trip, we're taking you to a place in New Hampshire that maybe you've never heard of before.
Do you have a suggestion for an upcoming Radio Field Trip? Click here to submit your idea, or email us at fieldtrips@nhpr.org.
As I exit Route 9 in Western New Hampshire, I follow a well-paved road, winding along a rushing river. I don't see any other cars on the road for miles.
I keep driving and eventually I park my car in the heart of a town that looks like it's escaped the touch of modern times. Nestled among the New Hampshire woods, well-maintained, red brick buildings from the nineteenth century line a small pond.
This is the picturesque town of Harrisville. On my left sits two industrial mills made of granite and more red brick. A river runs through the complex, the water rushing underneath the buildings. On my right there's an old-fashioned general store that's been in town for 180 years.
"It's pretty much as it was," townsperson John Colony says. "If you lived here in 1870 and came back today, it would look pretty much the same except for the cars."
John's family has lived in the town of Harrisville for almost two centuries now. His great-great-grandfather bought one of the mills from the founding Harris family in the 1800s.
And today, he's taking me on a tour of the town.
"Only two buildings have been built since the civil war," John says. "So that's why it's so special. It's not that it was unique when it was built. It's unique that it survived."
But John doesn't show off the town very often.
"We're not waiting for the next tour bus to show up," he says.
It's not that outsiders aren't welcomed in Harrisville, it's just that the people who live here aren't looking to bring in many visitors.
Instead of creating a tourist attraction, the town wanted to find a way for the people living there to preserve the buildings and keep them in use.
"When we came up with this idea, they thought it was heresy," John says. "But many people have figured out now that this is a good way to sustain buildings."
It was 1971 when the two mills closed, and the townspeople decided they would have to do something to keep Harrisville alive. So they rehabilitated the mill buildings for other uses like retail or studio space.
This way, the people who live in town can work there too.
"We didn't want to become a bedroom community for Keene or Peterborough," John says.
The mill buildings are filled with business owners, architects, and artisans. Harrisville has attracted people from all over. People like Walt Siegl who builds custom motorcycles.
"Most of my clients who visit to my workshop are just absolutely romanced by the area, romanced by the downtown," Walt says.
Walt and his family moved from New York City to Harrisville 11 years ago. His wife had connections in the area, and rural New Hampshire had similarities to where Walt grew up in Austria.
"It simply reminds me of my childhood," Walt says.
Others have lived in Harrisville for most of their lives, and want to continue its preservation and traditions. This includes John's son Nick Colony, who is a young professional working for the town's historic society.
Nick says it's always a battle keeping Harrisville the way they want it.
"Every year we have to come up against it with somebody who wants to make some money and change something that we'd have to live with for a hundred of years," Nick says. "They think they're improving it in some way, but from a preservation stand point less is more and the reason why we like it is because it hasn't changed."
John and I walk to the general store, where it's packed with townspeople for lunch. He says it's the real social hub for the town. And according to his great-grandfather's diary from 1860, it's been that way for a long time.
"He said after work at the mill he'd come to the general store and talk about hunting and fishing with the people in the store," John says. "And I realized this is the same place we're standing right now. Amazing."
And John's hope is that the store and town will continue to stand as it is now for another 160 years.