As Neighbors Legalize Marijuana, N.H. Advocates See Opening for Decriminalization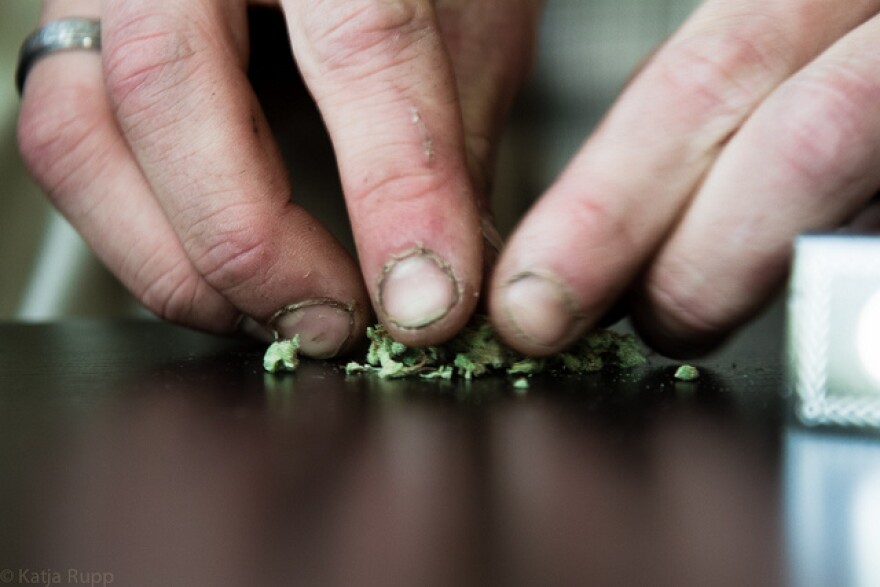 Lest there's any confusion as Maine and Massachusetts move to loosen their drug laws, New Hampshire police want to make one thing clear about marijuana use in the Granite State.
"It's illegal," says Seabrook Police Chief Michael Gallagher, whose community sits right in between one of the main highways connecting the three states. "As long as it is illegal, we'll enforce the law."
"If it's illegal in New Hampshire, it is illegal in New Hampshire," says Pat Sullivan, Executive Director of the New Hampshire Association of Chiefs of Police. "So we will enforce the New Hampshire laws, regardless of what the state laws in adjoining states are."
"You can legalize it in Maine and you can legalize it in Massachusetts, and in New Hampshire it's not legal," says Salem Police Captain Rob Morin. "So if you want to carry your personal quantity around with you, I would suggest that you do that in the commonwealth of Massachusetts or the state of Maine, because if you do it in New Hampshire, you're going to be charged."
So while you'll soon be able to legally carry and consume marijuana in Maine and Massachusetts, that doesn't change anything in New Hampshire.
Find out more about what, exactly, the new laws allow in Massachusetts (via WBUR) and Maine (via Maine Public Broadcasting).
And while other states in the region— Connecticut, Rhode Island and Vermont — have moved to decriminalize the drug, the Granite State is still the only place in New England that hasn't lifted penalties for possessing small amounts of marijuana.
But those who've been trying for years to reform New Hampshire's drug laws have at least a few reasons to be optimistic that things could be different in 2017.
"If Granite Staters are going to be able to cross the border and buy an ounce of marijuana, they should be able to return to their homes in New Hampshire with that ounce of marijuana without committing a criminal offense and being subject to arrest and prosecution," says Matt Simon, New England Political Director with the Marijuana Policy Project. "There's no practical reason to maintain a criminal penalty for possessing less than an ounce. I think that's where the conversation will begin, at least, in January 2017."
Rep. Renny Cushing, a Democrat from Hampton, is leading the charge on the latest proposal to decriminalize the drug, with the hopes that lawmakers will also start a more serious conversation about whether legalization might eventually be the right move for New Hampshire.
Cushing's still fine-tuning the details of his bills, but his decriminalization proposal would likely scale back the penalties carrying up to an ounce of marijuana – making it a violation, instead of a criminal offense. He's also trying to include increased prevention and education efforts, which might make the proposal more palatable to groups that have opposed decriminalization in the past.
"The idea that we spend $6 million a year prosecuting cases for possession of marijuana is a real waste of precious resources," says Cushing, citing figures from a produced a few years ago by the American Civil Liberties Union. "That same person who could spend a year in jail and pay a $2,000 fine of possession could walk across the border to Maine or to Massachusetts and consume that as a legal product."
Every year since 2012, lawmakers have weighed similar proposals to scale back penalties for marijuana possession. And every year since 2012, the measure's passed with a comfortable majority in the House – only to die once it got to the Senate.
Along the way, those bills have typically faced some of their most vocal opposition from law enforcement and drug prevention advocates.
But this year, acknowledging that the landscape on marijuana policy is changing, even those in the drug prevention community are saying they're open to at least discussing the issue.
"We're involved in conversations around decriminalization," says Kate Frey, the policy director for New Futures, one drug prevention advocacy group that has opposed past marijuana reform measures. "But we have certain principles that we feel would be important to have for that to go forward."
Those principles, Frey says, include a desire to make sure that New Hampshire doesn't decriminalize marijuana-infused products, like edibles — only the plant itself. The group also wants to make sure any decriminalization proposal that moves forward is also coupled with increased prevention efforts and risk assessments for young people caught with the drug.
"No one wants to see anyone arrested for very small amounts of marijuana and going to jail, we'd like to address some of the inequity," Frey says. "But we also have to be really cognizant of the fact that marijuana is particularly dangerous to youth, particularly around brain development."
On the law enforcement side, Pat Sullivan, with the New Hampshire police chiefs, isn't taking a hard line stance against decriminalization at this point — even if he still has some serious reservations.
"I guess our concern is, at this point, and I'm not taking it off the table, but how do we look at the governor and go OK, we're OK with decriminalization, and then we go and turn to the fourth and fifth graders at your local middle school and go, 'Yeah, it's really bad for you, but we're going to be OK, if we decriminalize it,'" Sullivan says. "We're kind of stuck in the middle."
Looking at the Legislature at large, proponents are also optimistic that turnover in the state Senate after this year's elections might give decriminalization a better chance of passing that chamber in 2017.
Having a governor who's said he's open to such bills also helps.
While Gov. Maggie Hassan was less receptive to decriminalization, Governor-elect Chris Sununu has repeatedly said he's open to decriminalizing small amounts of marijuana, even if he doesn't think New Hampshire's ready for full legalization quite yet.
"Looking at what happens in Massachusetts, or Maine, or Colorado or other states that have taken those steps are going to be very important," Sununu told NHPR recently. "What were the unintended consequences, what were the dynamics, what were the pros and cons? It's always just a smart thing to do. We don't need to be the first one out of the gate. We're not ready for that, clearly."
Cushing, meanwhile, is working on another bill that aims to do just that. He wants to set up a commission to study how the issue is playing out in Maine, Massachusetts and other states, with the goal of evaluating how New Hampshire might approach legalizing, regulating and taxing marijuana.
For the time being, though, thousands of people will continue to travel between New Hampshire and surrounding states where the drug laws are different – and if you're planning to use marijuana, legally, in those other places, Seabrook Police Chief Michael Gallagher advises making sure to leave it there.
"We've had situations when it was brought to a violation level in Massachusetts where people thought they were in Massachusetts and they ended up being put under arrest for marijuana in New Hampshire, and they thought they were in Mass," Gallagher said.
It's also worth noting that Granite State officials aren't the only ones with concerns about New England's patchwork marijuana laws.
Both Massachusetts and Maine allow local communities some flexibility in deciding how to handle marijuana use. The mayor of Amesbury, just across the border in Massachusetts, told the Boston Globe that he's factoring in the potential for an influx of visitors from New Hampshire when deciding how his town moves forward.
"Fireworks are one thing; marijuana is another," Mayor Ken Gray told the Globe, suggesting that he might try to limit number of shops that can eventually sell the drug rather than trying to ban the substance outright. "I'm concerned with how it affects our quality of life in the city."
In any case, until there are any changes to New Hampshire's laws, knowing where the Granite State border begins and ends will also be important.