Heading to Arizona, Departing White River Junction VA Director Urges Continued Focus on Rural Health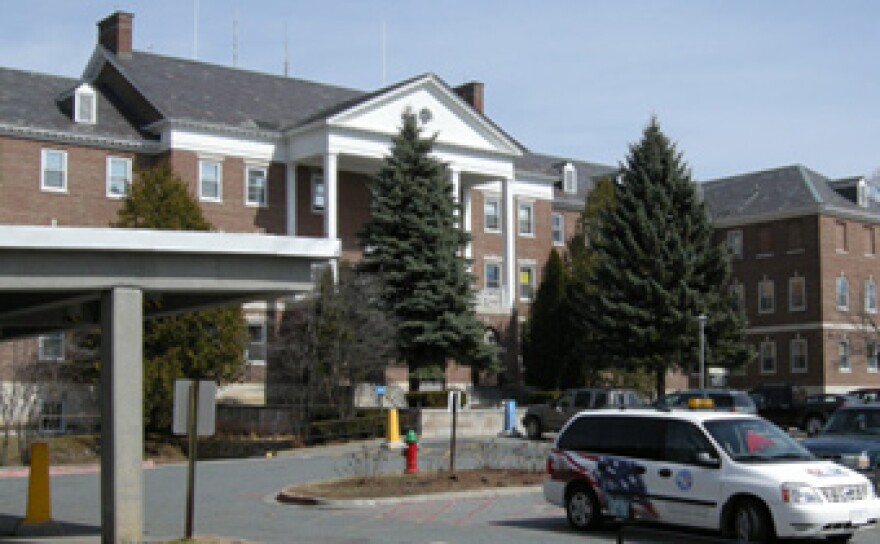 The Veterans Administration Hospital system in Phoenix was the epicenter of the VA scandal that surfaced in 2014.
In February of that year, a whistleblower alleged that 40 veterans died waiting for appointments at the Arizona facility. While the Inspector General eventually found no link between long waits for care and those deaths, the allegations exposed so-called "ethical lapses" among the VA's senior leaders and mid-managers as well as deliberate manipulation of wait-time records.
Deborah Amdur is the director of the VA hospital in White River Junction, Vermont, but she has been appointed to lead the VA hospital system in Phoenix. She spoke with NHPR's Peter Biello about the transition ahead.
The VA in White River Junction was not plagued by the wait times seen elsewhere. Why do you think that is?
I think one of the things that we did was really to have a very comprehensive focus on access and I have to say, I'm very proud of the fact that we are among the top 5 percent of VAs in terms of having really good access for the veterans we're privileged to serve here.
But we've done a number things to make that happen. One of the things is to make sure that you have sites of care where they're needed. We've done things like add an expanded clinic in Burlington, and we've just very recently opened a site, an expanded site in Littleton, New Hampshire, and we've just started seeing veterans in Colebrook, and actually, two weeks ago, I think, started sending our mobile van up to Berlin, New Hampshire as well. So making sure you have care going to where veterans reside is very important.
We've also expanded services that are available at the community-based clinics. So figuring out what are the services that veterans need close to home and making them available, either in our own system or partnering with the local community.
We use—I think you are aware—a great deal of telehealth for ensuring that veterans in very remote areas have access to specialty care. One of the other key things that we've done is to look at when we schedule services, so making sure here that we have clinics available on Saturday. We have both primary care and mental health clinics on Saturday mornings here in White River Junction. Many of our community-based clinics do have some expanded hours, and you know, we have our MRI, which is now open until eight o'clock at night.
As part of that expansion, the VA beefed up its hiring back in April to help improve service at the main clinic as well as five community clinics in Vermont and two in New Hampshire. In your opinion, is better service a matter of staffing?
I think it's a mix of staffing and scheduling, deploying the resources to the right places, certainly efficiency and how you use those resources, and you know, I think we've really done that. One of the things that has been also something that we've I think greatly enhanced in the last year here is transportation for veterans. Getting to clinic is really important, and sometimes veterans find that challenging, so our facility has really made it a practice to go after resources that might be available, so we got a special grant from the Office of Rural Health and hired three new drivers and purchased new vans, and because of that we now have transportation services running from some pretty remote areas to the clinics here in White River Junction or our community-based clinics. Also an important thing is to go after whatever resources—additional resources—might be available.
So you've been at White River Junction for three years. That's a rural area. What were some of the challenges of running such a rural hospital?
Certainly access has a different meaning when you're talking about veterans who live very remote and we have lots of inclement weather here, as we well know, and transportation is challenging, and so you have to rely on things like telehealth in a really more extensive way than you might in an urban setting, because it's unrealistic to expect that veterans—particularly during winter months—are going to be able to travel some of the distances that exist in this state. So I think we've been creative in making sure that we're using available technology and some of our partnerships with community resources to ensure that we have access available in a rural setting like ours.
Regarding Phoenix and the issues hospitals there had with wait times in 2014, the Inspector General blamed in part increased demand for services and an antiquated scheduling system. Did you deal with similar problems at White River Junction, and if so, how did you deal with them?
I think clearly the scheduling system in VA has been challenging and you know, so we have, as we've had new directives come forward in terms of better processes for scheduling veterans, we've made sure that scheduling clerks are well-trained and, you know, efficient, and you know, you really have to look at how you make clinic slots available to patients, making sure that you not only are booking your clinics, but you also have space available in clinics to handle walk-ins or urgent clinic needs and having some access open at all times to be able to accommodate the more urgent requests for care is very, very important.
What advice would you give to your successor about managing care at White River Junction?
Anyone who takes over this facility would need to be sensitive to the challenges of rural healthcare. Some of the partnerships that we're really pleased to have in our local communities with the Guard and Reserve are very, very important.
One of the things important to us here at White River Junction is the work we've done on the culture at the facility. As VA has faced some significant challenges and questions about how VA has functioned, I think it's been really important that we have ongoing dialogue that talks about what sound ethical practice is, and putting veterans first and doing the right thing by the veterans we serve. So we spend a lot of time here talking about ethics and values and integrity and all kinds of forums, and, you know, I think that's something that really needs to continue, and I certainly will hope that the next director that comes on board here will carry that on.