0000017a-15d9-d736-a57f-17ff8d8c0001Click on a photo to find stories by candidate:0000017a-15d9-d736-a57f-17ff8d8c0002More Content:Our Voters Guide provides an overview of all you need to know about the 2016 N.H. Presidential Primary.Click here to explore a calendar of candidate visits and other Primary campaign events.Click here for our Money in Politics stories and data interactives.Visit our Where They Stand series for an overview of the candidates' positions on key policy questions.Visit our series Primary Backstage to learn about the people and places that make the N.H. Primary tick.To see NHPR photos from the campaign trail, visit our Primary 2016 album on Flickr.
Cruz On Opposing Planned Parenthood: 'Where Were The Other Presidential Candidates?'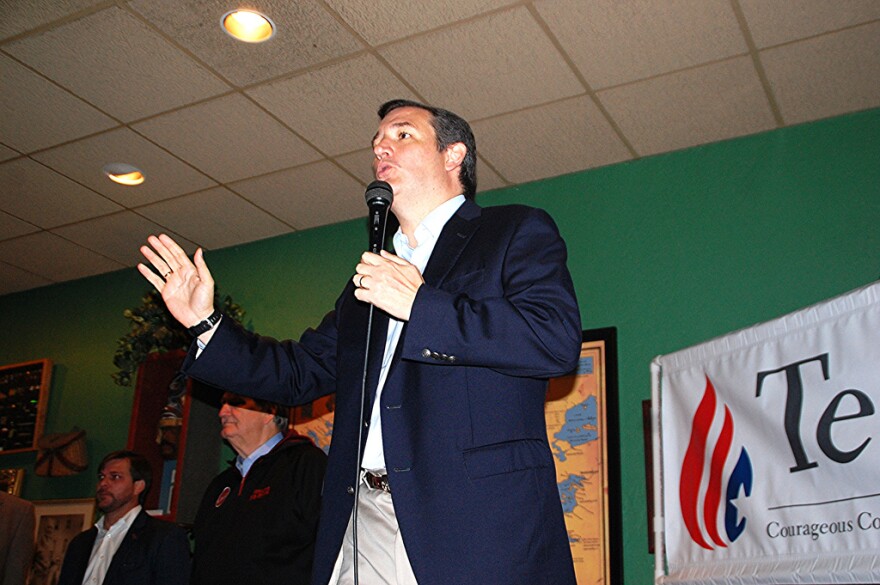 Republican Ted Cruz is again presenting himself to New Hampshire voters as the one presidential hopeful willing to speak out, and act, on issues that matter to conservatives.
Speaking Saturday in Laconia, the Texas US Senator brought up two issues which he said illustrated the differences in the Republican field.
"On that debate stage in California, everyone said we shouldn't be funding Planned Parenthood; we should stop this Iranian nuclear deal," Cruz said. "Well, when I was leading the fight to defund Planned Parenthood and to stop the Iranian nuclear deal, where were the other presidential candidates?"
Cruz's effort to block federal funding for Planned Parenthood at the risk of a government shutdown drew criticism from New Hampshire US Senator Kelly Ayotte, who said she agreed with Planned Parenthood critics but said the Texas Senator's strategy risked a shutdown and would do more harm than good.
At his Laconia stop, Cruz took audience questions on taxes, government surveillance programs and immigration, among other issues. On health care, he outlined new legislation aimed at speeding up Food and Drug Administration reviews of new drugs and medical devices.
"What the legislation I introduced says [is] if a drug or device is approved to be used in any of the other major developed countries - if it's approved to be used in the EU, if it's approved to be used in Japan - that the FDA has to respond to an application or approve it within 30 days or else notify Congress, and Congress has the authority to override what the FDA's done," Cruz said. "Right now American innovators are fleeing to other countries because, ironically, it's easy enough to get the socialist Europeans to approve a new drug than it is our bureaucratic FDA."
Cruz, like several other Republican hopefuls in this election cycle, heard from an audience member who appeared to question the origins of President Barack Obama, who was born in Hawaii to an American mother and a Kenyan father. "Is there anything in the Constitution," the questioner asked to some laughter, "that the new president can deport the last president?"
"You know, there's not," Cruz said, after a pause. "But I can tell you this. On January 20th, 2017, when I rescind every single one of Barack Obama's illegal and unconstitutional executive actions, he might just well self-deport."
Cruz's own origins came under question from a member of the audience, who asked about the constitutional requirement that presidents be natural born citizens. Cruz explained that while he was born in Calgary, Alberta, he was a US citizen because he was born to an American mother. "I have never breathed a breath of air," he said, "when I wasn't an American citizen."
Cruz's two-day New Hampshire campaign trip also included stops in Nashua, Deerfield, Salem and Wolfeboro; he also spoke at a forum in Hooksett co-hosted by the conservative advocacy group Cornerstone Action. Former Pennsylvania US Senator Rick Santorum and former Hewlett-Packard CEO Carly Fiorina spoke at the forum as well.