Health Law Proves Big Business For Contractors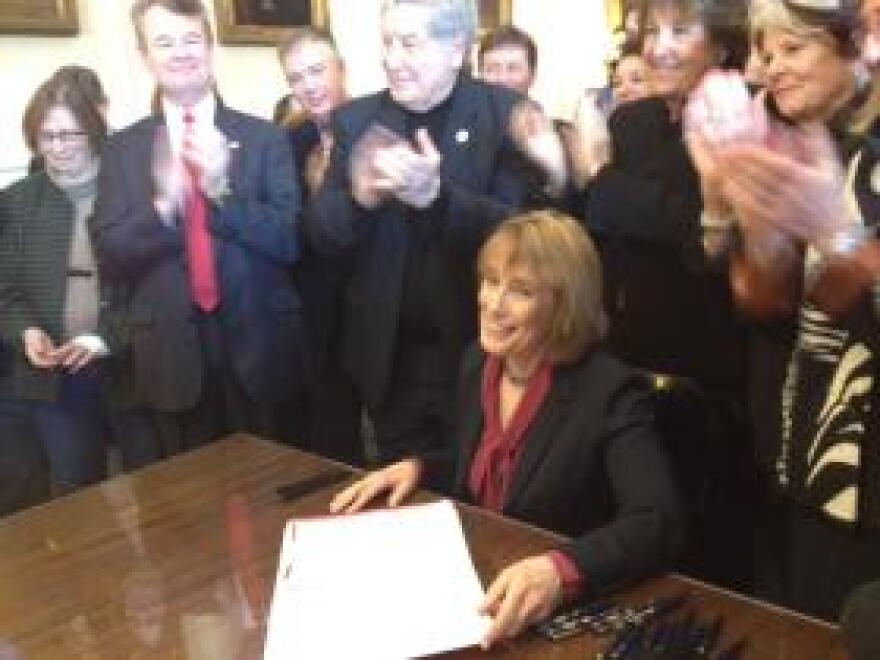 There was a time not all that long ago when politicians in New Hampshire had no trouble turning away federal money tied to the Affordable Care Act.
In March of 2011, the Republican-controlled Executive Council rejected a planning grant to explore creation of a state-run health care exchange.
At the time, Republican Chris Sununu said federal money for implementing so-called Obamacare was "like crack to the states."
But fast forward to earlier this month when, without debate, the Executive Council unanimously approved a $13.3 million contract to Health Management Systems.
That's the largest Affordable Care Act-related contract to date, but plenty of other groups are also scoring work.
The law firm Manatt, Phelps and Phillips is receiving $1.6 million for Medicaid expansion projects. Massachusetts-based Public Consulting Group has deals in play valued at $2.3 million, and another $3 million is going to Louis Karno & Company in Concord for marketing efforts.
In total, taxpayers are funding roughly $25 million worth of private sector contracts related to the Affordable Care Act in New Hampshire. Most of it is funded by federal grants, with the state spending about $7 million of its own money.
HIRED GUNS
The Department of Health and Human Services is hiring Health Management Systems to help with behind the scenes work related to Medicaid expansion, a key portion of the ACA.
Commissioner Nick Toumpas says his agency needs to bring in outside experts as it barrels toward a July 1st launch date.
"So in order to basically get started right away, we need to jumpstart our efforts with people who have done this type of thing in the past," says Toumpas.
Lean state budgets in recent years means there's no extra slack to take on new projects at the New Hampshire Insurance Department, according to Deputy Commissioner Alex Feldvebel.
"Well, we've got some extremely talented people in-house, but not very many. That's our problem," says Feldvebel.
The Insurance Department has awarded nearly $6 million in federal money to contractors to do a range of jobs, including regulatory oversight for health insurance plans and research into why insurance rates are rising.
Feldvebel says the Department has experience working with these outside groups.
"The trick with using outside vendors is know how to manage them, and to not just hand over the keys, and so we feel we are pretty good at that," says Feldvebel.
In fact, the Department has brought in a contractor to manage its other contractors. Martha McLeod, a former state representative, has been awarded more than $425,000 in Affordable Care Act grant money, including $106,000 received last fiscal year. Her job duties include moving contracts through the Executive Council process.
(McLeod declined an interview request.)
THE BEST USE OF MONEY?
Diana Lacey, president of the State Employees Association, a public sector union, questions the transparency and efficiency of these types of pay-outs.
"If we are using the for-profit vendors, and some of this work is being done by for-profit vendors, absolutely, that means that tax payers are paying for profit that they don't necessarily have to pay for," says Lacey.
She says she understands the politics of this situation: hiring contractors is an easier fight than increasing the state's work force.
But she argues agencies like Health and Human Services and the Insurance Department wind up farming out work they should be doing in-house.
"If we are so underfunding them that they can't handle part of their core mission, doesn't that beg the question, should we be doing something different?"
"If we are so underfunding them that they can't handle part of their core mission, doesn't that beg the question, should we be doing something different?"
Senator Andy Sanborn has been asking his own questions about the Affordable Care Act. The Bedford Republican is an outspoken critic and has voted against accepting any money for implementation.
But on this point--on if contractors should be doing the work instead of public employees--- Sanborn says he wants government to function the way a business would.
"By hiring out technical expertise and going outside our existing employee pool that we have in the state of New Hampshire, if that is the best solution, that is probably what we should be doing," says Sanborn.
He just doesn't like who's picking up the tab for it.