Milder Winters Mean Bears May Show Up Early At N.H.'s Backyard Bird Feeders
Spring in New Hampshire means black bears are emerging from their dens to search for food – including around your backyard bird feeder.
And warming winters are bringing the bears out sooner. So state officials now want people to bring in their bird feeders earlier than ever.
Kelly Dwyer lives in a big, airy house nestled up against the woods in Hooksett. Being back here, she says, has its perks:
"The surprise of what is going to show up that day – what's going to fly in or walk in – it's really exciting," she says. "And just the peace and tranquility."
Some of the woodland visitors really are surprising, considering we're just 10 or 15 minutes from Manchester. Dwyer gets bobcats, moose, fishers and, of course, American black bears.
She shows me a video she took of one night last December.
"He's going to emerge in a second," she says, as her phone screen fills with her dark back yard. "He's very skittish. He came down the path up there and then sat there for a little bit."
Finally, a black bear lumbers into view. He sniffs at an empty bird feeder before disappearing into the dark again.
Dwyer says she found his paw prints in the snowy woods the next day, as big as mittens.
This is why she has to be careful with her feeders.
State wildlife officials used to tell folks to bring them in by April 1. Now, as winters get milder and shorter, the deadline is more like March 15.
BACKYARD FORAGING
"They're triggered by increasing day length and increasing temperature, as well as food abundance," says Andrew Timmins, the bear project leader for the state Department of Fish & Game.
He says bears have great memories – and they love the sunflower seeds they find in bird feeders. Those seeds have more fat and carbs than most of what's available right after hibernation.
"It's such a sought-after food source," he says. "We don't want bears to get conditioned to feeding around residential areas and in backyards searching for that food reward."
He says bears will find food in the woods, especially after wet winters – so New Hampshire's acorns, beech nuts and berries should be doing well this year.
Still, the state averages 600 bear complaints a year – mostly about bears digging through unsecured garbage, pulling down bird feeders, or going after free-range poultry.
More abundant natural foods mean fewer complaints. Timmins says the opposite is also true – in years with drought-like conditions, such as 2012, New Hampshire had more than 1,100 bear complaints.
BEAR IN THE BIG CITY
These bears aren't aggressive, Timmins says, but they are everywhere. The state has about 6,100 animals, and while they're more concentrated the further north you go…
"There's been at least three bears in the last eight years or so that have found themselves in downtown Manchester in, um, a predicament," he says.
This is really why Timmins wants to make sure people discourage bears from hanging out in their neighborhoods. If a bear become a nuisance or a threat, it's likely to be killed.
Kelly Dwyer doesn't want to have to take drastic measures. Her backyard is a woodland oasis, with bird feeders and bird houses, a frog pond, and hardly another home visible through tall, dense trees.
Even in their final days, her feeders are still full of sunflower seeds, beef fat suet, even meal worms. And lots of chickadees, bluebirds, woodpeckers and more are flitting around, filling up. She says all this stuff would be like an ice cream sundae to a bear.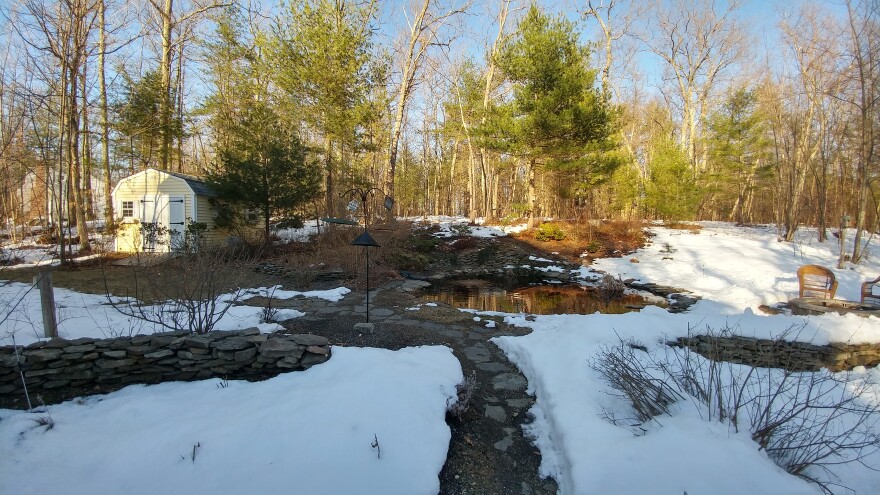 Dwyer is a naturalist who teaches for New Hampshire Audubon, but even she slips up sometimes.
"One year I was a little bit late, it was like April 3rd," she says. "And sure enough, I came out one morning, and the poles were on the ground, the feeders were gone."
This year, she says she'll be sure to bring in her feeders by the start of April.
But even if the food is gone – even if she sweeps the seed shells off the ground – she expects she'll see that bear again soon.